New Music Revue: Melvin van Peebles soundtrack looks ahead
June 14, 2017 by Greg Pratt, managing editor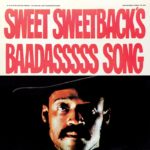 Melvin van Peebles
Sweet Sweetback's Badasssss Song (An Opera)
(Stax Records)
3.5/5
This reissue of this 1971 soundtrack is notable for the performances of Earth, Wind & Fire—at that point, still relatively unknown—but lays down a mean '70s funk/soul groove regardless of who's playing it. But it's noteworthy for more than that.
With a wild, cut-and-paste style utilizing samples and touching on various musical genres, the songs here are so experimental they border on avant-garde. Sure, when a beat is laid down and things get grooving—as on "Mojo Woman"—it's straight-forward old-school funk and soul. But elsewhere, the sounds are pure second-album Beastie Boys (18 years before that album, mind you), a wild collage of samples and enthusiastic boundary-pushing energy, gospel chanting pushed up against gritty '70s New York saxophone-driven sounds.
The end result is perplexing and disorienting, and this reissue—available on 180-gram vinyl—serves as a fascinating document of a release that definitely pushed open boundaries when it first came out.
Facebook comments; non-Facebook comments below