New Music Revue: Incantation sets the death metal bar higher and higher
August 10, 2017 by Adam Marsh, student editor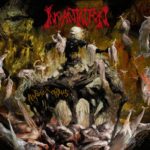 Incantation
Profane Nexus
(Relapse Records)
4.5/5
Pennsylvania death metal band Incantation's tenth studio album, Profane Nexus (which we just couldn't pass up reviewing here at Nexus; I mean, come on), deserves space in your record collection. Throw some vinyl out if you have to make space for it: this album is clear and concise yet abstract; the band's riffs have, if anything, grown sharper over the years.
The poetic lyrics find a home between the vibrating bass and slower tempo in "Visceral Hexahedron," and "Stormgate Convulsions from the Thunderous Shores of Infernal Realms Beyond the Grace of God" will keep listeners on the edge of their seats in anticipation of what massive riff is going to come next. The sheer focus, speed, and immaculacy in "The Horns of Gefrin" are manic, self-destructive pleasures.
The electric riffs in closer "Ancients Arise" are as satisfying as barbed wire tearing your worst enemy's back; the climactic beat brings the torturous track home.
This album is fascinating and will marinate in your consciousness for ages.
Facebook comments; non-Facebook comments below