25 Years Ago in Nexus: September 5, 2017 issue
September 5, 2017 by Greg Pratt, managing editor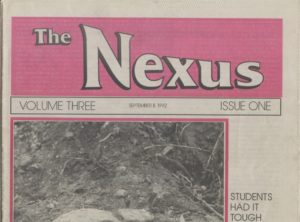 Define "tight": Our September 8, 1992 issue started that semester off with a bang, as an ad in our classifieds section proves. "To the guy in the tight Levis who lent me $10 at Registration; I'd like to pay you back. Let's meet. L.B." Okay, serious request now that I'm finished snorting coffee out my nose at the phrase "tight Levis": keep reading this column in the weeks to come, because we have much more to report about these two.
Student society impeachment blues: The story "Student society impeaches communications director" detailed how the Camosun College Student Society (CCSS) had impeached then-director of campus communication Eugene Evans. The CCSS said it was due to claims of misuse of CCSS "letterhead and logos"; Evans said it was due to his outspoken anti-Canadian Federation of Students stance. "If one… speaks out about spending $30,000 to $60,000 on sending student society executives to social functions of the Canadian Federation of Students back east, your days as a student society executive are numbered," he said in the story.
Way to woo our readers: Our always entertaining Words & Thoughts for the Thinking Idiot column, written by Al Callbeck (clearly at the end of his rope already in September), certainly caught readers' attention in this issue. Callbeck started his column by saying, "I begin this column assuming you are stupid, greedy, and environmentally unfriendly—a typical thinking idiot—led by people that are stupid, greedy, and politically motivated. Consider yourself identified." Ouch.
Facebook comments; non-Facebook comments below