New Music Revue: The Pains of Being Pure at Heart craft pop with honesty
September 5, 2017 by Patrick Newman, contributing writer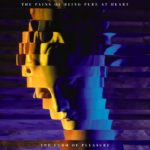 The Pains of Being Pure at Heart
The Echo of Pleasure
(Painbow Records)
3.5/5
Maybe it's because I'm a dad trying to juggle diapers and chores between episodes of The Octonauts, but when the promotional material that comes with music I'm reviewing uses terms such as "big-hearted, idealistic pop songs," I want to poke holes in my ears and break my fingers to avoid having to complete the review.
Thankfully, The Echo of Pleasure did not drive me to self-mutilation. Yes, there's enough saccharine sweetness to these nine tracks to give the listener cavities, but these songs are purposefully crafted with honesty and talent, and they avoid being derivative indie pop.
To get an idea of what this sounds like, think Primal Scream, Pixies, or The Cure at their most lovey, happy, romantic moments. Yummy.
If you want to celebrate your love, or if you just wish you had it, this album is for you.
Facebook comments; non-Facebook comments below