New Music Revue: K Trevor Wilson mines comedic gold
November 29, 2017 by Fred Cameron, contributing writer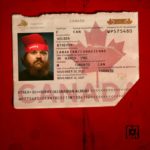 K Trevor Wilson
Sorry! (A Canadian Album)
(Comedy Records)
4.5/5
K Trevor Wilson's first album, SexCop FirePenis, took home Best Taped Live Performance at the 2016 Canadian Comedy Awards; this follow-up is every bit as good. With 20 years under his belt as an actor, writer, and comedian, Wilson is well established, currently starring on the series Letterkenny.
Sorry! (A Canadian Album) takes us on a coast-to-coast tour of Canada, seen through the eyes of one of our brightest comedians. Wilson tells of how quick Edmontonians are to inform us that Winnipeg is now the stabbing-murder capital of Canada, pokes fun at the backwards ways of small towns, and describes the strange feelings of leaving paved roads behind and experiencing the different kinds of winter seen across the nation.
Wilson kept me laughing from beginning to end here—he actually apologizes to the rest of Canada on behalf of his hometown of Toronto, proof that this performance is Canadian through and through.
Facebook comments; non-Facebook comments below