New Music Revue: Neil Young and Promise of the Real tackle US politics on new album
December 8, 2017 by Adam Marsh, student editor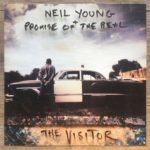 Neil Young and Promise of the Real
The Visitor
(Reprise Records)
3/5
Canadian singer/songwriter Neil Young proves it's never too late to turn over a new artistic leaf with The Visitor, his second collaboration with American rock group Promise of the Real.
The first two tracks, "Already Great" and "Fly by Night Deal," are some of the hardest, loudest tracks I've ever heard from Young. Promise of the Real's sound really comes out here.
In many places throughout the album, the songs act as a response to the changing cultural and political times. Young opens the album with the lyrics, "I'm Canadian, by the way, and I love the USA"; however, in the refrain of the same song, which is a response to the Trump campaign, he sings, "You're already great/You're the promised land/You're the helping hand/No wall/No ban/No fascist USA."
Young constantly pushes boundaries with The Visitor. He tries new ideas and new styles, and I love him for it, but it doesn't always work here. "When Bad Got Good" must allude to the quality of the track: it's certainly bad, but it never quite gets good. However, songs like "Stand Tall" and "Change of Heart" seriously kill it. The latter's lyrics (an example: "Hate is not worth using even as cement to build your walls that you hide behind") speak volumes both to the human heart and to the political situation in America right now. The song's exceptionally creative words will stop listeners cold.
On tracks like these, Young's soft, original voice rings in everyone's ears like a finger around a wine glass on a still night, yet it still manages to hold strong against the cold winds that threaten the USA today.
Facebook comments; non-Facebook comments below