New Music Revue: The Rolling Stones hop in time machine with new collection
December 13, 2017 by Adam Marsh, student editor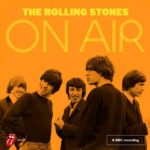 The Rolling Stones
On Air
(Interscope Records)
3.5/5
There are very few bands that I hold to such ridiculously high standards as I do The Rolling Stones. Their music has changed the lives of three generations; I'm hard pressed to think of another band that's done that in the way the Stones have.
Their latest collection, On Air, is a compilation of songs recorded live from the BBC between 1963 and 1965; this album takes listeners right back to smoke-filled, intimate London pubs of the time. Mick Jagger's astonishing vocal range is present in "Mercy, Mercy," however, this particular recording of that song is not as good as Don Covay's original. But "Route 66" is a fresh tune with far more heart than Bobby Troup's original. Sometimes the covers work on this collection; other times, the scratchy, live, distant '60s drawl drowns the heart out of Jagger's voice and Keith Richards' war-like riffs.
Timeless Stones classics such as "(I Can't Get No) Satisfaction" and "The Last Time" are unique, one-of-a-kind interpretations of the songs that represent what the band was feeling creatively back in the early '60s.
At times, this feels like one of the best albums ever; at other times, it feels as though it just isn't working. A prime example of this is "Down the Road Apiece." The '60s equipment makes it sound as though the British rockers are 50 feet away from the microphone, but the combination of blues riffs and pure, utterly fearless, old-time soul hides these flaws well.
These recordings are truly rewarding, raw, retro endeavours, and after many late-night listens of this album, I feel that the imperfections are actually what gives it its spine: what you hear is what you get, regardless of if it's perfect. That's a refreshing reality in a world plagued by shitty pitch-corrected pop music.
Facebook comments; non-Facebook comments below