New Music Revue: OMD prove that even their extra material is great on new collection
December 14, 2017 by Adam Boyle, staff writer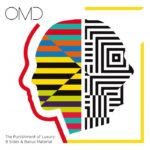 Orchestral Manoeuvres in the Dark
The Punishment of Luxury (B-Sides/Bonus Material)
4/5
Legendary English synth-pop group Orchestral Manoeuvres in the Dark (OMD) released their thirteenth album, The Punishment of Luxury, in September of this year. They're now releasing the B-sides and bonus material off the album, and even on these non-album cuts, the sound of OMD hits strong and fast.
While making an incredibly prominent return to their earlier sound, the band also blends in genres and sounds that they've learned along the way. While old bands trying to incorporate dance, modern rock, or electric sounds rarely pull it off, OMD does, with flying colours, song after song, and a lot of it could be on any modern radio station.
The remixes included on this collection could just as easily appeal to new audiences as they could to OMD fans. OMD bassist/keyboardist/vocalist Andy McCluskey and keyboardist/vocalist Paul Humphreys somehow maintain the voices of their youth and show listeners what it means to really sing.
And although the remixes and B-sides are great, they are remixes and B-sides; the original versions of the songs are even better.
Facebook comments; non-Facebook comments below