25 Years Ago in Nexus: January 10, 2018 issue
January 8, 2018 by Greg Pratt, managing editor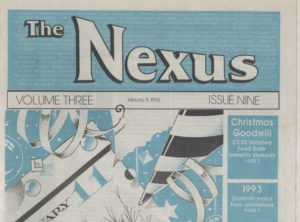 Student Society goodwill: In our January 11, 1993 issue, the story "Food bank update" talked about the food bank program run by the Camosun College Student Society (CCSS). Through the program, the CCSS collected over $4,000 in donations of food and cash, which they distributed through hampers to students in need. And the goodwill didn't stop in the '90s: the CCSS still delivers hampers to students every year.
CCSS hiring procedure gets ugly: This issue also detailed a four-hour December 16, 1992 CCSS meeting in which CCSS office resources coordinator Michael Subasic was hired. Apparently, the CCSS had a committee responsible for hiring someone for the position and had spent weeks reviewing 300 applications and interviewing 13 short-listed candidates. According to the story, the committee had decided to do second interviews with a handful of people from the shortlist, but the CCSS council decided to skip that process and offer the position to Subasic. The decision to hire Subasic was unanimous except for two CCSS directors; the meeting devolved into allegations of "childish" and "irresponsible" behaviour and accusations of council members being "liars." Subasic recently left his position at the CCSS, although is still listed on its website as being a staff member. And, yes, you read that right: it was a four-hour meeting.
Dawson reopens: We mentioned in previous 25 Years Agos that there had been various fires at both campuses recently; in this issue, we reported that the Dawson Building was re-opening soon, after undergoing renovations in the aftermath of a fire. The total damage from the fire was over $400,000.
Facebook comments; non-Facebook comments below