Anxiety, accessibility, and athletes: A look at the ten most-read stories on our website in 2018
November 21, 2018 by Fred Cameron, features writer
In the fall of 1995, there was a municipal election in Edmonton. My tenth grade Social Studies class received a visit from two of the candidates running in my ward. Alderman candidate and leftist character Tooker Gomberg was always entertaining, but, unfortunately, he had to save time for some schmuck who gave us no reason to remember his name to tell us about his platform as a candidate for trustee. I probably should have put quotation marks around "platform," as he really didn't have one. He was an early-20s recent University of Alberta graduate who was running because he was pissed off that there wasn't enough journalist work to support his grad class, so he wanted to raise tuition costs in order to limit the number of students enrolling in journalism.
I had a lot of issues with his platform, but the central problem was that that isn't even a decision that the public school board is involved in. This kid was so clueless that his mom probably didn't even vote for him, and I was so annoyed that I decided right then and there that, out of spite, I was going to prove him wrong and become a journalist.
It didn't happen quite as I had planned. 
Last fall, I finally made it to college after a 20-year break. I had never had anything published, but I still had something to say. I just didn't know who to say it to.
With no idea where to start, I knocked on the Nexus office door and went in to shake hands with the editor, Greg Pratt. I told him I wanted to write for the paper. I don't know if he was impressed with my initiative or if the paper was starved for writers, but he said, "Let's see what you can do."
Over the short time I've been involved, I have written about, among other things, politics, economics, music, comedy, and human rights, and I hope that that list continues to grow. Two days ago, I was struggling with a story and, with deadline quickly approaching, I had nothing. I went to Pratt for advice. He suggested that rather than find a story, maybe we should take a look and see what it is people want to read by looking at what stories did the best this past year on our site.
So here it is—a look back at the top 10 most-read stories from 2018 at nexusnewspaper.com.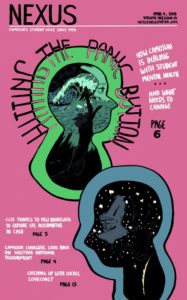 10. "Hitting the panic button: How Camosun is dealing with student mental health and what needs to change," April 4, 2018, written by Fred Cameron
I spent 37 years preparing to write this story. I'm not going to get into specifics, but I work in mental health and addictions, and I came by my expertise through a long and painful period of trial and error. I had been lobbying to write an addictions feature but my editor felt I was too close to the subject to write about it impartially, so we compromised with a mental health story that I quietly planned to push the limits on.
As a journalist, I had to learn how to adapt and tell the story in front of me when, through the interview process, I exposed shortcomings in Camosun College's counselling department: a significant shortage of counsellors at the college was brought to my attention. The piece instantly shifted and became a news story, where I facilitated a conversation between the college, the Camosun College Student Society (CCSS), and the college's counselling department.
Beyond the news aspect of it, "Hitting the panic button" was a strongly personal piece. Camosun students Cam Webster and Melanie Winter touched on their own mental-health struggles and how they work through it all.
If there were an actual panic button I would have hit it as hard as I could. Truth be told, I was struggling mightily at the time, and I almost missed my deadline as a result. I'm very stubborn, and there's no chance that I would have gone to see a counsellor, but I learned a great deal in the interview process of this story, and writing it all down proved to be highly cathartic. 
For reasons of both sentiment and content, this is, without a doubt, my favourite piece that I've had published.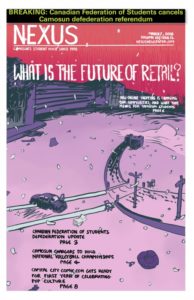 9. "What is the future of retail? With another retail giant gone, Camosun's Lansdowne neighbourhood is changing," March 7, 2018, written by Fred Cameron
This was an amazing story to take on. I tapped insider knowledge at Camosun and out in the local business sector, and concluded the article with the thoughts of one of the nation's foremost retail experts.
The world is changing, and consumers, voting with their money, are constantly choosing convenience. The effects are visible in malls and retail districts. Department stores are struggling to adapt and, one by one, fading from memory, while online retailers are opening storefronts to offer face-to-face communication with consumers.
The gravity of the shift was embodied when retail giant Sears permanently closed its doors at Hillside Centre in January of 2018. There had been a trend of larger stores going under since the '90s, but Sears was a unique trainwreck.
Online sales have continued to grow year after year, but Sears was the first company to perfect the catalogue system, long before online shopping entered the mainstream. Poor decision-making and failure to reinvest profits and evolve with the market eventually rendered it obsolete.
Camosun students offered arguments for and against online shopping in this story. Arts and Science student Mary Rubin gave a unique perspective as a fashion model who has seen some of the deceptive tactics used by online clothing retailers. And, on the other hand, University Transfer student Linden Jackson described his first-hand experience working at the Source, a company that has successfully merged online and physical services to create a thriving business.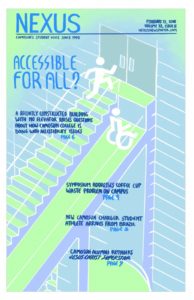 8. "Accessible for all? A recently constructed building with no elevator raises questions about how Camosun is doing with accessibility issues," February 21, written by Fred Cameron
As journalist, I was still a little bit green when I wrote this piece. It was really my introduction to investigative journalism. "Accessible for all" had it all—accessibility is a human-rights issue, but this story extends into every political level.
After receiving an email from a Camosun instructor voicing their concerns to Nexus that the Centre for Trades Education and Innovation building at Interurban has a mezzanine in the common area that is not accessible, I set out to find out why this is the case.
I spoke with at least a dozen people before finally discussing the matter with Camosun director of facilities Ian Tol, who said that the college was aware of the problem, but that the building still exceeds BC Building Code standards. To my eyes, this exposes a major gap between human-rights legislation and the Building Code.
The story also featured a personal piece about Legal Office Assistant student Natalia Grass, whose life changed in an instant when she lost her footing and fell from a cliff on a ski hill and was left paralyzed from the chest down. I chatted with her a few times; she gave us a window into her day-to-day life and the adjustments that she has made since the accident.
After the article ran, there were quiet rumblings of a retrofitted lift being added to the mezzanine, with the college meeting with the CCSS to discuss funding options, but there are no confirmed plans at this point.
7. "New musical shows that we're still workin' 9 to 5, 40 years later," April 23, written by Katy Weicker
I must admit that I am absolutely shocked to see two stories about musicals in our list of 10 most-read stories of 2018, and a little disappointed that they are also the only arts stories on the list. (Not a single album review or concert preview was on the list; makes sense, then, that I'm constantly taking the ferry over to Vancouver because my favourite bands decide it isn't worth taking the trip to Victoria to play.)
The success of the musical, and this story, serves as a testament to the staying power of the 1980 film, 9 to 5. The message remains relevant, as women's equality in the workplace is still a hot-button issue decades after the film hit theatres.
6. "Camosun College reassessing grade-appeal process to consider human-rights issues," April 27, 2018, written by Adam Marsh
Very long story very short: in the spring of 2018, Camosun had to reassess its grade-appeal process after three Nursing students successfully appealed failing grades. Their appeals were denied by their instructor, then their faculty head, and then their faculty dean before the students were successful in a hearing with Camosun vice president of education John Boraas.
This was a different process than students have been able to use in the past because, under recent provincial policy on sexualized violence, the students were protected under the British Columbia Human Rights Code.
Our senior member of staff, student editor Adam Marsh, was undoubtedly the right person to cover a story this heavy. 
"I like to keep a balance between the arts stories and these," says Marsh about harder-hitting stories. "Any time you write a human-rights piece it gets your heart pounding. Any journalist who says otherwise is full of shit."
Marsh says that it hits close to home any time he is giving fellow students a voice when they are dealing with administration.
"Any time I write a story where the crux is 'student is pissed off at college' it's difficult, as a student, to not go into it in an accusatory way," says Marsh. "As a journalist, I have to consider that the student could be wrong and the college could be right, or vice versa. Giving students a voice is great, but it doesn't always mean that the student is going to come out on top."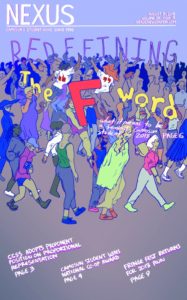 5. "Redefining the F word: What it means to be a feminist Camosun student in 2018," August 8, 2018, written by Katy Weicker
Nexus staff writer Katy Weicker dove headfirst into a sensitive topic with this piece. As both a colleague and a reader, I have to hand it to her on a job well done.
"I think the joke around here is that I am the resident feminist," says Weicker, "so it made sense that I would write a piece like that."
This was Weicker's first feature, and with the number of interviews involved, it was a challenging piece to write; as Nexus features writer, I can definitely relate. 
"I was really intimidated by the process," Weicker says, "and I wanted to do something that I thought that I knew a lot about, because I thought that would make it easier. I very quickly realized that I had a lot to learn about feminism, and that feminism is forever evolving. You can't wrap it in a little bow and say that 'this is what feminism looks like on campus.'" 
Weicker says that, with this story, she changed her approach as a writer.
"I was convinced that I was going to get yelled at for saying something wrong or offending someone," she says. "Thankfully, I didn't, or at least nobody vocalized it. I think the biggest piece was realizing that I didn't have all of the answers, and to humble myself and allow others to share their experiences, and not push one opinion or one point of view. It was an interesting article to write."
4. "Brazilian student athlete brings his experience to Camosun Chargers," February 21, 2018, written by Renata Silva
We don't do a ton of sports coverage at Nexus, but contributing writer Renata Silva created an entertaining and informative feelgood piece with this profile of a Camosun Charger. It must have hit a nerve, as it placed very high on this list.
After coming to the conclusion that Brazil isn't the right place to pursue academics and athletics together, Eduardo Bidá started shopping around at Canadian colleges for the right fit. In the end, Bidá chose to enrol in Camosun's Exercise and Wellness program and to join the Chargers men's volleyball team.
It didn't take long for Bidá to find his place on the team. In his second week as a Charger he won both the Pacific Western Athletic Association Male Volleyball Athlete of the Week award and the Canadian Collegiate Athletic Association Male Athlete of the Week award. Now both he and Silva can take home this fourth-place award, too.
3. "Sweeney Todd mainly a victory from beginning to end," August 3, 2018, written by Adam Marsh
One of the fringe benefits of writing for Nexus is the opportunity to cover events out in the community. Student editor Adam Marsh had the good fortune of reviewing a performance of Sweeney Todd: The Demon Barber of Fleet Street at the Blue Bridge Repertory Theatre for this web-exclusive review, which did surprisingly well in our year-end tally.
"Sweeney Todd, specifically, is known to be one of the most difficult shows to sing," says Marsh. "There is an incredible range of vocals. I couldn't pass up the opportunity to review it. I am a huge fan of the musical and, specifically, Johnny Depp's interpretation of it in the movie."
The thrill of taking in live musical theatre is sometimes in the roller-coaster ride that goes on behind the scenes. Anything can happen, and, for better or for worse, the show must go on. While the audience was distracted by the comically told tales of cannibalism, rape, and murder, the director was holding his breath and hoping to avoid disaster. There was a last-minute cast change, leaving Kieran Foss with three days to learn his part in the chorus.
For Marsh, stories like this one are an incredibly important part of what we do at Nexus because the arts seem to be an afterthought at post-secondary campuses.
"The arts are usually the first thing to get cut when the government spending is tight for educational institutions such as Camosun," says Marsh. "I understand why they do that, to a certain extent, because the play directors aren't building the bridges or the elevators that get us to our doctors' appointments."
But Marsh says that he takes offense to the lack of value that we place on the arts in our society.
"To say that the arts are less important than math or science is completely ludicrous," he says. "They are important to a different group of people, and in an entirely different way. Art gives me meaning and purpose on a daily basis. Whether it's music, plays, movies, or literature, art has saved my life on numerous occasions. To be able to talk to directors and writers about their process is an absolute privilege."
2. "Know Your Profs: David Armstrong just can't get a break," March 21, 2018, written by Adam Boyle
This was a bit of a surprise for those of us around the Nexus office: coming in at number two was our Know Your Profs profile of Camosun Hospitality Management instructor David Armstrong. Although they're always fun and interesting, our Know Your Profs stories generally don't place quite this high on our year-end lists of most-read stories. 
"It was fun. I was honoured to be included," says Armstrong. "I have no idea why I was included."
Know your Profs is one of our longest running columns. It might be a little on the fluffy side, but it gives students an opportunity to know their instructors on a personal level. While the usual topics of favourite meals and biggest pet peeves are addressed in the piece, Armstrong also tells us about his program, what he teaches and why he loves doing it, and his thoughts on the future of post-secondary education. Still, why did this story do so well? We couldn't help wondering if Armstrong's family rallied to pad the numbers in his favour.
"I have no clue," says Armstrong. "It must have been a slow day at Nexus. I was surprised [when I got the email about this story placing this high]. I thought it was a practical joke, by either the students or the staff and faculty, who ribbed me to no end about the article. I didn't even mention it to them, but copies of it just started showing up around the office."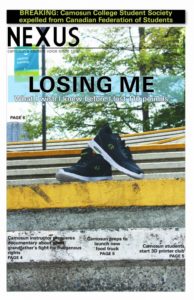 1. "Losing me: What I wish I knew before I lost 110 pounds," June 13, 2018, written by Katy Weicker
Coming in at number one is a personal narrative from our staff writer Katy Weicker, who tells a tale of the challenges she faced as she struggled to lose a significant amount of weight, and then maintain her new weight.
Weicker says that while the story was difficult to write because it was very personal, it was also cathartic. She says that she really didn't think that she'd be allowed to write this story, as Nexus doesn't do a lot of personal narratives, and she also had doubts that readers would care.
"My biggest apprehension was not so much the universe reading it, per se," says Weicker, "but people I know at college, and people I work with here at Nexus didn't know the story because it happened before I started here. They had only ever known me at my lighter weight. That was the most intimidating part, because they were kind of the first group of people that I had let into my life since losing weight."
Weicker says that maintaining her weight loss is a daily challenge.
"If I wrote a piece on it now," says Weicker, "it would be completely different than the one I wrote in May. It is an ever-evolving journey, and it's not something that has an endgame. It's a kind of recovery in some ways, in that you hit your goal but you still have to fight it every day. Some days are easier to fight than others, and some weeks and months are easier to fight than others. You just get up in the morning and think, 'I'm going to do the best that I can today.' Sometimes you win and sometimes you don't, and that's okay."
To be honest, I immerse myself so deeply in the feature stories that the subject takes over my life for two weeks. After I submit my work, I can't even discuss the subject without getting a disgusting taste in my mouth, so I avoid those discussions and quietly move on.
Now that the dust has cleared, it's been incredibly fun to look back at the past year.
I can't say enough about how positive and valuable my Nexus writing experience has been. 
I had been telling myself and others that I was a writer who didn't write for most of my life.  Eventually the time comes to stop talking, and go out and do it. I'm incredibly grateful for the opportunity, and for this chance to look back on what stories Nexus readers enjoyed the most this year. Thanks for reading, and see you in 2019.
Facebook comments; non-Facebook comments below