New Music Revue: Jane's Party amaze with Casual Island
February 6, 2019 by Matthew Thomson, contributing writer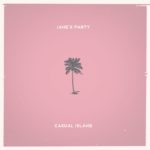 Jane's Party
Casual Island
(Independent)
4.5/5
The simple lyrics and amazing instrumental prowess found on Casual Island, the fourth album from Toronto-based pop-rock quartet Jane's Party, make it the best thing since The Beach Boys and their 1966 album Pet Sounds.
Casual Island takes us on an audio trip, starting with a slow, melodic beat on "Wait for You," and delivering the upbeat and appealing "Satellite." They give us a short 30-second break with "Epilogue," which is completely random and out of place, and then they jump right back in with the title track, which is a masterpiece.
Lots of modern artists use the same simple beats and lyrics in their music; Jane's Party, on the other hand, are a nice, refreshing change from that. Their songs are original and catchy; just the other day I found myself humming the tune to this album's "Right Down the Line."
Every artist tries to put a little bit of themselves in their music; given how much I enjoyed the sounds here, I wouldn't mind one bit meeting the members of Jane's Party.

Facebook comments; non-Facebook comments below