First Things First: How to feel like a human being
February 6, 2019 by Tiegan Suddaby, contributing writer
Know what's cool about college? No one tells you what to do. You have all that free time between classes to do whatever you want (and to work on your assignments). Some days you might have only one class, or none! Think of all that time (to do assignments) you can personalize!
How will you spend it? Working on personal projects? Making plans with cool friends drinking expensive coffees? No! Instead you will scroll through Instagram five minutes after your feed refreshed! Also, you have assignments due!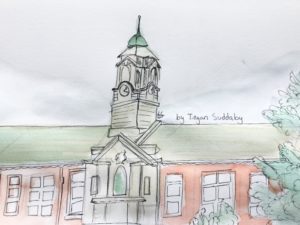 Apparently, school bleeds into your free time. In fact, it basically takes up all your time, so weekends are your time to catch up. Once you're free of homework, what do you do? You're too tired to go out, too poor to go out, maybe even too introverted to go out.
True, time doing schoolwork outweighs your free time. I recommend finishing one task and doing something that is mentally engaging. Maybe instead of watching the same series you always watch, try taking up a hobby that you can learn and enjoy. I've currently occupied myself with improvising songs at the end of a long day.
Going out can always be an attractive idea, regardless of whether you're more of the party type or you enjoy catching up with a friend one-on-one, but it's something you need to plan out.
If at the end of the week you go out to a new café, that allows you to enjoy a new environment when working. Keep in mind that going out gets to be expensive, so spend in moderation.
Generally, do what you feel is lacking in your life. Work on your novel, paint a mural, write a space opera, if it'll keep you feeling alive. Take an hour out of your day to feel like yourself.
Facebook comments; non-Facebook comments below