Know Your Profs: Sheryl Haynes on the power of a healing circle
February 6, 2019 by Katy Weicker, staff writer
Know Your Profs is an ongoing series of profiles on the instructors at Camosun College. Every issue we ask a different instructor at Camosun the same 10 questions in an attempt to get to know them a little better.
Do you have an instructor who you want to see interviewed in the paper? Maybe you want to know more about one of your teachers, but you're too busy, or shy, to ask? Email editor@nexusnewspaper.com and we'll add your instructor to our list of teachers to talk to.
This issue we talked to health care instructor Sheryl Haynes about stormy classes, her teaching style, and the little things that make teaching warm her heart.
1. What do you teach and how long have you been at Camosun?
Presently I teach health University Transfer courses: Health & Wellness in Contemporary Society (HLTH 110) and Holistic Health & Healing (HLTH 112). I've been at the college since 1991. My teaching career at Camosun started in the Certified Dental Assistant (CDA) program. During my years in the CDA program, I was recruited by the chair of Community, Family, and Child Studies (CFCS) department to teach a health basics course to the Mental Health & Addictions (MHA) program students. From there, I was asked to teach another course in the MHA program and to supervise students in their practicum field placements. I was then recruited to teach HLTH 110, starting with one course and then being offered more. I finally made the leap to the CFCS department from dental to teach 100 percent a few years ago. I presently teach HLTH 110 and HLTH 112 courses throughout the year to general University Transfer students and to two program cohorts.
2. What do you personally get out of teaching?
I find it exhilarating to be in the classroom. I have an interactive style to teaching and learning, so my lectures encourage students to engage in dialogue. It always amazes me the stories that students have and their willingness to share.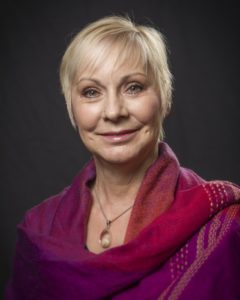 3. What's one thing you wish your students knew about you?
I am pretty open with the students. At the beginning of every term I do an icebreaker group activity, and part of this activity is that the students can ask anything about me either professionally or personally.
4. What's one thing you wish they didn't know about you?
Interesting question. If there was anything I did not want them to know about me, I would not want it published (laughs).
5. What's the best thing that's ever happened to you as a teacher here?
The best things that have happened to me are the small kind gestures from students, such as a brief email to say how much they enjoy, or have enjoyed, the class, and how much they enjoy my teaching style. It is also heartwarming when I have past students drop by my office and tell me that I am still their favourite teacher.
6. What's the worst thing that's ever happened to you as a teacher here?
Sometimes you have a particular group of students that do not mesh well, and conflict arises. I have only had one really difficult situation in all my years here, with a group of students that had been together for one term already, and I was the instructor parachuting in in the second term. Little did I realize, I was parachuting into a "storming" group of students. It was a very challenging term for myself and the students—not a healthy learning environment. I was blessed to be introduced to the healing powers of circle by one of the Indigenous students in the class. I was able to arrange a healing circle that was facilitated by [Camosun Indigenous Education and Community Connections elders voices coordinator and events coordinator] Sandee Mitchell and community elder Skip Dick. This really turned the class around, and the term ended on a much lighter note. I was truly amazed of the power a healing circle holds.
7. What do you personally see in the future of post-secondary education?
I think that the future of post-secondary education is moving toward more accessibility for students with diverse needs. Camosun is presently working on a project so that course materials will be more accessible to all students. The HLTH 110 course is being used as the project example in this project. Very exciting times for students and instructors.
8. What do you do to relax on the weekends?
I love to read, and take time to read for pleasure and leisure every day of the week, but I spend more time reading on the weekends. I also really enjoy watching lighthearted movies and spending time with my husband. When the weather is nice I love to putter in the garden.
9. What is your favourite meal?
Hands-down: steak!
10. What's your biggest pet peeve?
What bothers me the most is when students are not able to set their phones aside for short periods of time. This is very worrisome to me, as the research is quite clear on the harm that we are doing to ourselves intellectually (as well as emotionally, socially, and occupationally, to name a few other dimensions of wellness) by spending so much time on these devices. Everyone needs to take a tech break throughout the day and hopefully unplug for longer periods of time on days off.
Facebook comments; non-Facebook comments below