Victoria Film Fest review: Rafiki
February 11, 2019 by Nathan Krause, contributing writer
Love finds itself briefly in the dusty streets of Nairobi as two young Kenyan women attempt to tackle the complex emotions within while facing the hostile world outside in <em>Rafiki</em> (which translates to "friend"). Director Wanuri Kahiu's movie follows Kena, the daughter of a divorced politician and a disgruntled schoolteacher, as she coasts across town, relaying messages to one another via the gossip she overhears from the nosey citizens.
Kena speaks seldom; each word appears to pain her before she cracks a smile to ease the awkwardness. Her world is hidden between sheets of fabric billowing in the wind, behind vibrant beaded curtains, always lurking behind a happy facade.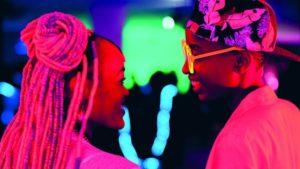 After learning her father is having a son with another woman, she takes the day off to take in the heavy news. Kena is struck with quiet infatuation as she stumbles upon Ziki, the daughter of her father's political rival. Ziki's kaleidoscope of pastel braids toss from side to side as charismatic Afropop blasts from her boom box speakers.
Adapted from a short story written by Monica Arac de Nyero, Kahiu and co-writer Jenna Bass tenderly execute a LGBTQ love story from a perspective largely overlooked in queer film. Kenya's conservative religious culture strictly forbids homosexuality and the film's success has led to it being banned in Kenya, making it even more worth celebrating.
In the face of violent uprising and family drama, Kena and Ziki's flawed relationship struggles to overcome the forces that oppose them. Tradition rips the two apart, yet Kena's optimism always has her looking up at the perfect sky, scanning the skyline, acutely aware there is so much more for her.
Rafikiasks us what we want to be in a world constantly telling you "no." Early in Kena and Ziki's relationship they make a pact to be "something real," and that's exactly what Rafikiis: real.
Pick up our February 20 issue for even more print-exclusive Victoria Film Fest reviews!
Facebook comments; non-Facebook comments below