Camosun Student Innovation Challenge gives students a platform to pitch creative ideas
February 20, 2019 by Kate Wood, staff writer
How can the student experience at Camosun be improved? The college's Student Innovation Challenge (SIC) is attempting to answer that question. Based upon the criteria of demand, impact, and feasibility of concept, students have an opportunity to present ideas to a panel and possibly win some money with their innovative propositions.
For the challenge, students applied on their own or with a partner, and were then put into teams of four students from across the college. The teams then had to decide on one idea to submit. Now, after months of preparation, they will present their plans to a final judging panel on Wednesday, February 27, at an event anyone can attend.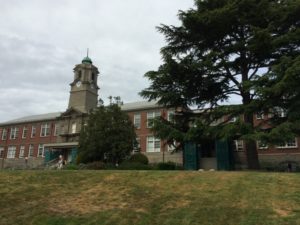 Camosun Sociology instructor Peter Ove is one of the coordinators of the SIC. He applied with other faculty to receive funding from the school through the Creativity and Innovation Grant; they decided to use the money to offer prizes in exchange for innovative ideas.
"The idea would be for students to find something that would make life better at the college," says Ove. "And so we thought, well, we'll find some students to do that, and then we'll hold a pitch-style event, like a Dragon's Den."
Of the original 56 applicants, there will be nine teams presenting their concepts to the final judging panel. Contestant Christine Clark heard about the challenge from a professor and decided to get involved (Clark is also a Nexus contributing writer). As a student of the Community Support and Education Assistant program at Camosun, Clark has been made aware of some of the problems on campus that need to be addressed.
"We had an opportunity to use a wheelchair for about an hour on campus, just to kind of experience that," says Clark. "I went into the Fisher building in my wheelchair, and had lunch in the cafeteria, and that was okay, but then afterwards I wanted to go into the washroom to wash my hands, and I actually could not access the women's washroom on the first floor of the Fisher building."
Clark had to investigate to find out that the only washroom she could use was on the second floor of the Fisher building, accessible by elevator, with no signs or directions on the main floor to guide her.
"So if you start thinking about a kid who's new to the school who maybe has mobility issues," says Clark, "or even anxiety issues, or any of the other kind of disabilities that people have, what would that be like if you didn't have the confidence to ask around? That's a barrier to access, because maybe people are going to say, 'I don't even want to try.'"
One of the reasons for the challenge is to increase student engagement on campus. Clark was surprised to find out how low student participation is in extracurricular activities at Camosun, but she was even more astonished by the lack of response to her requests for information and feedback from faculty.
"I was also a little bit surprised about some of the faculty," says Clark, "that there was a lack of interest and engagement there too. Not all, not all by any means; there's definitely some people who've been really supportive and interested in talking to me. But there's other faculty members who I've actually emailed, and I just get no response whatsoever, like not even a, 'Hey, that's not a very good idea, we're not interested'… nothing, just nothing."
Despite a lack of feedback or participation from some at the college, there is a large team of faculty working hard to give Camosun students a platform to express their ideas for the improvement of life on campus.
"Some of the ideas are pretty out there," says Ove. "Some of them are pretty cool, and feasible. So it's neat to see what other students have come up with, and are willing to put some work into, and put themselves on the line to present in front of a significant panel for the college."
Facebook comments; non-Facebook comments below