CCSS and CASA demand government pay more attention to student mental-health issues with new campaign
February 20, 2019 by Adam Marsh, student editor
The Canadian Alliance of Student Associations (CASA) held the #StudentsLetsAct campaign from Wednesday, January 30 to Friday, February 1. The Camosun College Student Society (CCSS) was part of the campaign; they passed out 500 heart-shaped cards to students, who then wrote about why mental-health issues are important to them on the cards.
CCSS external executive Fillette Umulisa says the government needs to pay attention to this campaign.
"We got 500 hearts signed by Camosun students," says Umulisa. "The government should look at that and think, 'That's a lot of students.' There was so much reception to this campaign; people were more heavily invested in this. People were on board with this; people want to see change, and the government should take that into consideration and actually provide for students. Because right now, we're standing here with energy and enthusiasm asking for change. The only thing we're expecting from them is to actually be receptive of this."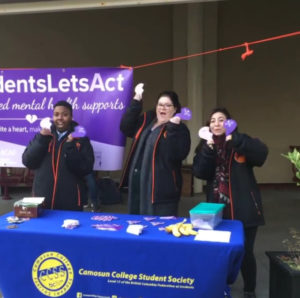 Part of the reason discussing mental-health issues is so prevalent among students is that many are away from their families to study, and even if they're not, being a student is often very isolating, says Umulisa.
"In my opinion, it's the age where people are more vulnerable and susceptible to a number of issues due to stress around education and becoming more responsible," she says.
But Umulisa says the stigma around mental-health concerns has decreased.
"People are becoming more open-minded," she says. "There's always been a stigma around mental health."
Umulisa says resources in the mental-health field begin with creating job opportunities, and the job opportunities begin with proper courses being offered at post-secondary institutions.
"We have Psychology, but that is just not enough," she says, also pointing to the Mental Health and Addictions program at Camosun. "We need to create job opportunities for people who study in this field in order to have the resources needed for students to operate fully without being blocked by the fact that they're stressed, or they can't think, or they suffer."
Umulisa says that where she comes from—Malawi—it's still very taboo to talk about mental health, but she says there's no reason mental health shouldn't matter just as much as physical health.
"I feel like people have realized that not everybody can operate on high energy and high power all the time," she says.
The CCSS would love to see the federal or provincial government provide more support in the form of clinics, psychiatrists, and counsellors that students can use without stigma, Umulisa says.
CASA chair Adam Brown points to recent statistics (previously reported in the January 23 issue of Nexus) published in the 2016 National College Health Assessment Survey. The survey of 43,780 students from across Canada found that 18.4 percent of students who participated in the survey had "reported being diagnosed or treated by a professional for anxiety," says Brown, and that 2.1 percent of students who participated in the survey had attempted suicide. 2.1 percent of students may not seem like a large number at face value, he says, but when you consider how many post-secondary students are in Canada (2,051,865 in 2016/17, according to Statistics Canada) Brown calls the number "staggering."
"Suicide should never be an option," says Brown. "It's really disappointing to see that government doesn't step up."
Brown says the financial barriers students face can make the mental-health complications they experience far worse; CASA is aiming to alleviate some of that through similar benefits provided by the government to people with permanent disabilities, says Brown.
"Another part of that is increasing the Canada student grants for students with permanent disabilities by 50 percent, similarly, to accommodate for an increase in demand by students with short-term mental-health concerns," says Brown, adding that mental health complications are often episodic in nature, so CASA would like the government to take into account that students have often passed the fee deadline for their courses when they become unable to attend.
Umulisa says that she realizes that change can't happen immediately, and points out that the CCSS offers counselling services to students.
"I understand [the government providing more resources] is something that's going to take a long time," says Umulisa. (Umulisa points out that online counselling is available to Camosun students through the CCSS' health and dental plan; at mystudentplan.ca, available through the CCSS website, Camosun students can receive the confidential online video counselling.)
Brown says that Statistics Canada collecting more data on student mental health is important; this way, government funding can be allocated in a very targeted way, and the government will be able to "craft better-quality mental-health supports."
The cards that were passed out to students at Camosun and other campuses, where they wrote about why mental health was important to them, will be given to minister of health Adrian Dix on Tuesday, February 26.
"2.1 percent having attempted suicide is so concerning," says Brown. "And we really need to see action from the federal government."
Facebook comments; non-Facebook comments below