Photographer Diana Thorneycroft uses figurines to create cryptic works
February 20, 2019 by Christine Clark, contributing writer
Photographer Diana Thorneycroft never played with dolls as a kid, but as an adult she's made a successful career mutilating and photographing a collection of dolls and figurines in a series of mysterious explorations. Now, Victorians can see her work as part of Madrona Gallery's Pulp & Process IV exhibit, running in February and March.
"There's always a reproduction or drawing or painting or a poster as the backdrop, and then on the table I construct the set," says Thorneycroft. "Then, when I'm ready to photograph, the camera's in place, and I spend quite a lot of time positioning the figures, moving trees and stuff like that so the sightline is perfect."
Thorneycroft buys figurines on eBay and at garage sales, and they tend to be representations of famous Canadians: Don Cherry, Celine Dion, The Great One… although she did have to hire an artist to make the Trailer Park Boys. For other works, she takes an aggressively hands-on approach.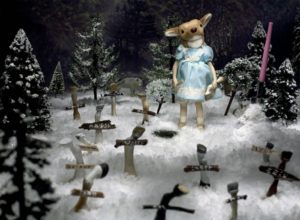 "For my most current work, which is called Black Forest Dark Waters, those are altered figurines, so I would either construct from scratch [or] most often I would take a G.I. Joe and remove the head or add things to the head and body by using Sculpey and drawing and painting and adhering and gluing, and really shifting the body so it became an altered humanoid animal person."
Thorneycroft has created several series about Canada, including Group of Seven Awkward Moments, which brings together amusingly disparate elements of Canadian culture—Tom Thompson, unpredictable weather events, wild animals. The Canadiana Martyrdom Series,on the other hand, consists of gruesome images that Thorneycroft says are tongue-in-cheek. One unforgettable scene matches up Anne of Green Gables with Bob and Doug McKenzie in a re-telling of St. Agatha's story.
"It's a really dark humour, and the fact is that it does stem from historical paintings that exist, so this is kinda funny, but this is not funny," says Thorneycroft. "Like, people are laughing but then they think, 'Oh, should I actually be laughing at this?' Because there is a violence, and the original St. Agatha, someone actually did do that to her. She refused to give up her Christianity, so [Roman prefect Quintianus] severed her breasts as punishment."
Recently, a woman in a wheelchair confronted Thorneycroft at an artist talk in Brandon; the woman was deeply offended by Thorneycroft's altered figures, as she interpreted the work as a highly negative commentary about disability.
"If the work is upsetting, it's so subjective… In my artist statement I talk about Hieronymus Bosch and how his work was always cryptic, and never provided the comfort of closure, and that's the same with mine," says Thorneycroft. "The viewer brings her own history to the narrative, and that's really important."
Black Forest Dark Waters, which revolves around altered plastic horses and herdsmen, was inspired by a recent trip to China, where Thorneycroft saw people who she says had been purposefully maimed as infants asking for money in the streets; she says they were maimed so that they would stand out as spectacularly different in a sea of people asking for money.
"When I started constructing these photographs, the herdsmen acquired jobs and some of them were nefarious and others were quite sweet and tender," she says. "It's just my interest in pushing—well, embracing—the dark and light side of human nature."
One of Thorneycroft's earliest works, The Body, Its Lesson and Camouflage, is a series of self-portraits with fake breasts, penises, strange tubes, and medical devices. This iconography is still present in much of her work, most notably in a series of drawings called Carnival of Tongues, Tails and other Protrusions.
"I started doing them a couple of years ago," she says. "I just don't edit, I just draw. I don't think, just whatever comes to mind just comes to mind, and drawings seem to marry everything I've been interested in."
Pulp & Process IV
Until Saturday, March 2
Madrona Gallery
madronagallery.com
Facebook comments; non-Facebook comments below