Victoria Beer Week back for sixth year of education and sudsy good times
February 20, 2019 by Nathan Krause, contributing writer
Hosting 21 events over 9 days, Victoria Beer Week (VBW) is coming just in time to save us all from these lonesome winter blues. Back for its sixth year, the event is shaping up to be the best VBW yet. 50 craft breweries from all across BC will showcase beers exclusive to the event, and last year's successful Beer School event has expanded to a full week of learning the art and science behind the brew.
"We are really excited about some of the new events we are doing this year, especially the new Beer School component. It's something we've wanted to do for a long time," says VBW director Joe Wiebe, who is also the author of Craft Beer Revolution.
Beginning Saturday, March 2, classes will be held that coincide with that evening's main event; they range in topics from cellaring beer to cooking with hops. Vancouver Island's only advanced Cicerone (official beer expert) Stephane Turcotte—who is also brewmaster of Île Sauvage Brewing—will be hosting a food and beer pairing that you can use to kickstart your own journey into becoming Cicerone-certified.
"He is going to lead an introduction to the Cicerone program class at his brewery on Sunday afternoon," says Wiebe. "You can use the knowledge that you get there to at least get the level-one certification, which there is an online test for."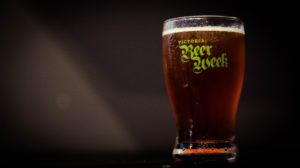 Offering Victorians an opportunity to expand their knowledge in a fun setting is what makes the event so unique. Each Beer School event will be led by experts, mixologists, or talented chefs, making these events a must for the curious beer fan.
"We are taking a risk, but we are super excited about it," says Wiebe.
For main events, VBW is sprawled across the city at some of the best restaurants and venues in Victoria. Kicking off the week is Lift Off!, where 14 brand-new craft beers will be unveiled at Victoria Public Market and event-goers can cruise delicious food pairings that market vendors have specially prepared. Don't worry if you fall in love with a special beer—you'll be able to purchase your favourites in several pop-up liquor stores throughout the week.
One event Wiebe is particularly amped for is the Beer Cocktail Competition, happening on Wednesday, March 6.
"It'll be a night where we get six local bartenders to compete, creating their own unique beer-cocktail combinations," he says. "Each will be assigned a distillery and brewery from the island and they'll be judged by three judges, and a winner will be decided at the end of the night."
Tickets generally include six four-ounce tastings of unreleased beers from BC craft breweries, along with food pairings. Extra food and drink tickets can be purchased separately to keep the night going strong. One must-attend event is the Saturday Night Casks, which will close the week off.
"This is an event where we will have 25 breweries on site, each with a special cask that they make just for that night," says Wiebe. "It's always a really cool event and will likely be the first of the main events to sell out."
For students that might be pinching pennies but would love to attend, Wiebe suggests volunteering.
"There is a volunteer link on the website," he says. "We need everything from event set-up to collecting beer tokens."
Victoria Beer Week
Various times, Friday, March 1 to Saturday, March 9
Various prices and venues
victoriabeerweek.com
Facebook comments; non-Facebook comments below