Cultural Showcase Event casts spotlight on international students
March 6, 2019 by Katy Weicker, staff writer
Camosun students from around the globe are coming together again in this year's Cultural Showcase Event, a longstanding tradition at the college to help celebrate different cultures through a creative lens.
Second year Business student Luis Aguilera is an international student from Mexico; Aguilera will be co-hosting the event for the second year after getting involved with Peer Connections, an on-campus program designed to help support international students.
"It's a group that, as soon as I arrived to Camosun—like, my first day—the people doing the orientation talked about it," says Aguilera.
The idea of volunteering was intriguing to Aguilera, who quickly joined the group. When the opportunity to host the event came up last year, Aguilera thought he'd give it a shot.
"People tell me that I'm really talkative, outgoing, social," says Aguilera. "So, I just said, 'Why not? I'll give it a try and see how it goes.' And that's how I got involved, pretty much."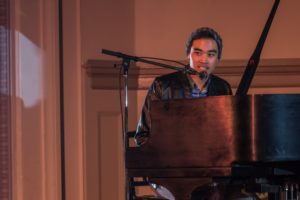 Joining Aguilera is co-host Emily Zhao, a second-year international student from China. Zhao was involved in the Peer Connections Cultural Runway fashion show in 2018, and is thrilled to be hosting the Cultural Showcase Event for the first time.
"I'm so excited because it's my first time to be a host," says Zhao. "And, actually, when I was in high school in China, I really wanted to be a host, but there's no opportunity provided for me. So, this time, I'm really excited about it."
Aguilera says that he's excited to see the different people who are going to perform this year, despite auditions being derailed by February's snowfall. One of these performers will be second-year domestic University Transfer student Nathan Salvador, who will share his Filipino heritage at the event for the second time after getting involved last year. Salvador, a singer, says the experience of performing was enjoyable because of the sense of community behind the event.
"It wasn't just the showcase itself but the biggest thing, I think, for me was the environment that was there—just the new people, seeing the passion everyone was showing about showcasing their culture, and their passion of just meeting new friends. It was a really welcoming environment, you know," says Salvador. "Even if everyone was meeting there for the first time, it felt like we knew each other for years. It was just a really cool atmosphere."
Salvador says that atmosphere is one the things that encouraged him to come back this year.
"To be honest, I was really, really nervous. I get really, really nervous really easily," says Salvador. "But I think that that warm environment and atmosphere before the performance really gave me some courage."
Salvador says another big part of his decision to participate is how the event sheds light on cultural discrimination, an issue he personally tries to focus on after developing several friendships with international students.
"Before I didn't really have any idea what the international community was going through, being a domestic student who grew up here, even if my culture is Filipino," says Salvador. "Talking with these people really kind of opened my eyes to see how much hardship they go through when they're moving out of their comfort zone."
Salvador hopes other domestic students will join the cause with the help of events like this. Aguilera echoes Salvador's sentiment about the important message behind this event.
"By doing this event, we recognize March 21, the International Day of Elimination of Racial Discrimination," says Aguilera. "That's also a big part of the event, how we started."
Cultural Showcase Event
7 pm Friday, March 15
Free, Young 216
camosun.ca
Facebook comments; non-Facebook comments below