First Things First: Are summer classes worth it?
March 6, 2019 by Tiegan Suddaby, contributing writer
Classes? In summer? Should I? By instinct I would say "absolutely not," because I like not doing things. However, I also hate not doing anything productive and then feeling like an absolute fool for not doing anything. Instead, I'll make the decision easier for all of us.
What you need to consider is what you want to achieve in a summer class that you wouldn't get in the rest of the year. For the more ambitious types, think if there are any goals you plan to reach, and how another class would help with that. People who process scholarships like outstanding applicants. If you're dedicated to doing extra, optional work, that tends to impress.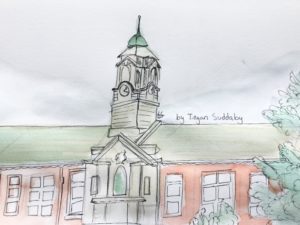 You need to consider what a summer class might entail. True, the overall semester is shorter, but longer hours and intense workloads are why taking just one class—maybe two—is recommended. Either enrol in a class that you know you want to devote time to or a class that would be too stressful to take on during a semester when you have other classes.
Think of it like this: if you know you're going to push aside a certain subject to be your last priority because it's frustrating, make it the only priority. If you know you're going to focus entirely on one subject because you love it, the concentrated hours and work should be worth it.
For the people who want to just get their required classes over with: go for it! Finishing the less-exciting material in a matter of weeks is a completely valid reason for summer classes. Without the weight of other classes crushing your intellectual shoulders, you'll be more prepared to take on another semester.
Summer classes entail harsher hours and an intense workload: is it a challenge that's worth overcoming? Is it a cop-out answer to say, "It's up to you"? Then so be it.
Facebook comments; non-Facebook comments below