Victoria Beer Week review: Drink Your Hops & Eat 'Em Too gets things hopping
March 11, 2019 by Nathan Krause, contributing writer
It was one of the last events of Victoria Beer Week, and Friday night's Drink Your Hops & Eat 'Em Too had the Victoria Public Market hopping yet again.
Hops are what give beer its earthy, bitter flavours, which are meant to balance the sweetness of malt. Turns out they add quite a bit of zest to food as well, and market vendors were proud to show off their hoppy culinary creations.
Entering with a rumble in my tummy and a clean tasting glass, I went straight for the Hush Puppies from Roast Meat and Sandwich Shop. Golden brown nuggets of fried hops and corn batter topped with a tangy aioli, these little guys were just what I needed. Fresh and satisfying.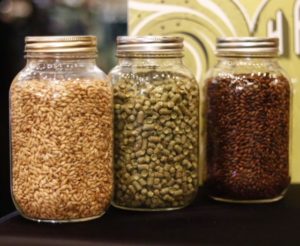 With a few lingering on my plate, I filled my glass with Twa Dog's Cloud Chamber Smash Double IPA. Holy hoppy hell, at 8.6% ABV, this one isn't messing around. With notes of citrus and tropical fruits, this hop bomb was a great way to start the night.
Catching a glimpse of Driftwood Brewery's Original Gravity Haze in the glass, I knew it was next. With its vibrant amber hues, stone fruit notes, and beautiful viscosity, I was on cloud nine. I managed to float down to where Shatterbox Coffee Co. were set up, where rows of fresh brownies were calling my name. I grabbed a Hopped Up Brownie and marvelled at the way the rich hops worked with chocolate. It was made even better with a serving of their cold-brewed honied Cascade hop tea.
My hunt to find the hoppiest of them all was fulfilled with Hoyne Brewing's Alpha Acid IPA. It's a punch to the face; you have to love hops a lot to get into this one. The aroma alone was intoxicating and within a few sips I was on an Alpha Acid trip I didn't want to end.
Finishing off the night, Yellow Dog Brewing's Go Fetch Hoppy Saison was the perfect way to wash down the heavier flavours of previous beers. Lively and crisp, the hops in this saison are as carefree and playful as a day at the dog park.
Facebook comments; non-Facebook comments below