First Things First: Get awarded
March 20, 2019 by Tiegan Suddaby, contributing writer
I'm going to let you in on a cool secret. It's called "getting money for doing what you're already doing." "You mean schoolwork?" you ask. Sure—school, volunteering, you name it.
I'm talking about applying for awards. Have you thought about it? Are you thinking about it now? Luckily, the Camosun website says right on its "awards and scholarships" page how to apply for one in your field.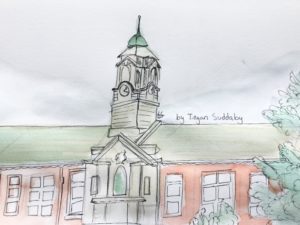 The Camosun page is thorough, but there are things you should know first.
Of course, the first step is to be an actual student. Watch out if you're a part-timer: the descriptions of the awards will specify if they're looking for someone full-time. Then, of course, there are the special applications.
Most of the application forms are the same: fill out the basic questions (name, degree, award you want) and submit it in a nice envelope. Some special ones like the Excellence in Psychology Award require a list of the courses in that subject you have taken.
Others require submissions—essays, creative pieces, things like that. The rule here for all of them is that you submit the completed work with a detachable title page and no name. The reviewers should be completely unbiased.
Here's some special knowledge: there are awards for you. Yes, there are awards for first-years (or any years, in some cases) who excel in class, who love to help and volunteer, or who are passionate about what they're doing. It's a matter of knowing if you want to do it! (Or if a faculty member nominates you.)
Go ahead, make a list of what awards you can get. Now make a checklist—does this particular award need a submission? A small biography? Package up what it needs in a nice envelope and hand it in before June 1! Or May 15. Or the first Tuesday of September. (In other words, they have different deadlines, so be sure to figure that out, too.)
Facebook comments; non-Facebook comments below