Know Your Profs: Chemistry instructor Silvija Smith on the importance of having fun while learning
March 20, 2019 by Katy Weicker, staff writer
Know Your Profs is an ongoing series of profiles on the instructors at Camosun College. Every issue we ask a different instructor at Camosun the same 10 questions in an attempt to get to know them a little better.
Do you have an instructor who you want to see interviewed in the paper? Maybe you want to know more about one of your teachers, but you're too busy, or shy, to ask? Email editor@nexusnewspaper.com and we'll add your instructor to our list of teachers to talk to.
This issue we talked to chemistry instructor Silvija Smith about waitlists, poker faces, and puns.
1. What do you teach and how long have you been at Camosun?
I started teaching at Camosun as a Chemistry sessional instructor in the winter 2016 term. This is my first term as a continuing faculty member.
2. What do you personally get out of teaching?
Sharing my passion for chemistry. Students enjoy my sense of humour, consisting of chemistry-related jokes and puns; it's a great feeling knowing that students are enjoying their time learning chemistry.
3. What's one thing you wish your students knew about you?
I wish students knew how much of an impact they have on me on a regular basis. Teaching is the highlight of my day, and I feel privileged to be a part of their lives, if just for a class, and assisting them in reaching their goals and fulfilling their dreams, whether that's in chemistry or an entirely different field.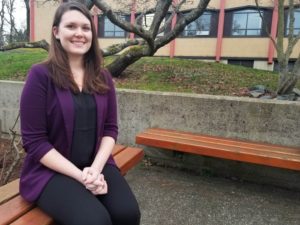 4. What's one thing you wish they didn't know about you?
I have a terrible poker face. I prepare exams months in advance so I don't accidentally let them know which questions and topics will be tested.
5. What's the best thing that's ever happened to you as a teacher here?
Seeing students succeed. Learning isn't just about getting As, it's about growing as an individual, both professionally and personally, and achieving the goals one sets for oneself. If students leave my class understanding chemistry and had fun while learning, then I've achieved one of my goals as an educator.
6. What's the worst thing that's ever happened to you as a teacher here?
Turning away students who are on the waitlists.
7. What do you see in the future of post-secondary education?
With advances in technology, I can see post-secondary schools offering more courses online. This will be a huge benefit for students to work on their courses according to their own agenda. It would be great if educators could embrace this change and find alternative methods for delivering traditional classroom lectures in the online world.
8. What do you do to relax on the weekends?
I enjoy having dinner and playing board games with friends. My most recent favourite is Settlers of Catan.
9. What is your favourite meal?
Salmon with asparagus and homemade bread. Baking is one of my hobbies, and recently I have been learning how to make bread.
10. What's your biggest pet peeve?
People who aren't willing to learn.
Facebook comments; non-Facebook comments below