New book looks at A Tribe Called Quest's Legacy
March 20, 2019 by Johnny Frem, contributing writer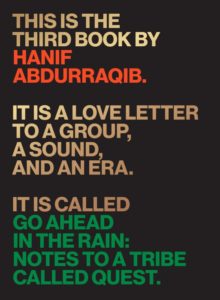 Hanif Abdurraqib makes a heartfelt homage to the band A Tribe Called Quest in his new book Go Ahead in the Rain: Notes to A Tribe Called Quest. The band left an indelible mark not only on the author and on all of rap but on the music industry, and this book explains why.
When early hip hop songs sampled tracks from '60s and '70s LPs, the music, Abdurraqib says in the book, "created a dialogue between past and present." Abdurraqib places hip hop within the context of a long history of Black music in America, demonstrating how it's an extension and continuation of the constant struggle of Black musicians to hold on to their musical traditions.
A Tribe Called Quest began as a crew hanging out in Queens, New York. They were part of Native Tongues, a collective of east coast hip hop bands and artists. This book looks at the history of the east coast rap scene and the emergence of the west coast scene in LA, and how the conflicts between the two scenes ended in the deaths of Tupac Shakur and the Notorious B.I.G.
Rap became dangerous on the west coast in the early '90s with the humiliating arrest of the members of NWA and their ultimate vengeance with a song called "Fuck the Police." In the book, Abdurraqib contrasts the sentiments of the scenes on the two coasts, saying that on the west coast "…what would make young white people most excited and old white people most afraid… [on the east coast] would make young black people most curious and old black people most welcoming." He says that A Tribe Called Quest does not "approach race politics with violent rage, not because they don't feel it, but because their solutions are more esoteric."
Chapters 4 and 8 are loving tributes, fan mail to each of the band members. In a letter to band member Ali Shaheed Muhammad, Abdurraqib recreates the scene at a lunch-hour sock hop in high school and credits the mood to Muhammad, whose music was playing the first time the author kissed a girl he liked.
Abdurraqib's themes and approach as a music historian are similar to Chris Walter's histories of Canadian punk bands SNFU, Personality Crisis, the Real McKenzies, and Victoria's own Dayglo Abortions.
Although they disbanded after their 1996 album Love Movement, Tribe reunited for concerts in 2004 and 2006, and for festivals in 2008 and 2011, by which time the band had become legendary.
In the book's last chapter, Abdurraqib discusses how at the 2017 Grammy Awards, rap was finally acknowledged as a respectable category of music. But fans of A Tribe Called Quest knew that all along, and this passionately written book will remind readers of both the genre's and the band's legacy.
Facebook comments; non-Facebook comments below