The Blue Stones bring their success story to town
March 20, 2019 by Myrika McDonald, contributing writer
From being good friends just jamming together and discovering their sound to breaking through and achieving success, The Blue Stones have come a long way. Now the Windsor-based alt-rock duo are coming to Victoria during their first North American headlining tour, in support of their debut full-length, Black Holes.
Before vocalist/guitarist Tarek Jafar and drummer Justin Tessier became The Blue Stones, the pair were good friends through high school and university, and they began playing together after six years of knowing one another.
"Justin was the first person I asked, 'Hey, why don't you check out some of the stuff that I've been writing?' We just started practicing some of the songs together and they sounded good and we went along with it," says Jafar.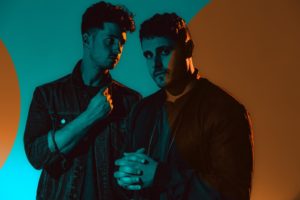 Taking influence from artists such as The Black Keys and Acid Jazz, the duo write their songs based on what they want to hear themselves, but it seems to be connecting with a wide audience. Now they're bringing those songs to town to connect with the Victoria crowd. Jafar says the experience of touring across the continent has been exciting.
"This is the first time that we are going off on a tour where we are the headliners, so it's really exciting for us," he says. "It's so crazy to pull up to a city and have people come out. It's been amazing to see the support."
The Blue Stones' 2015 single "Black Holes" was one of the songs that really helped the band take off. It's been streamed over a million times on YouTube alone, never mind on other streaming services like Spotify.
"It's a song that reflects our past or journey as a band," says Jafar, "but, really, I think it relates to a lot of people who have to make big decisions early on now."
Black Holes contains some of the band's earliest material, but as Tarek looks ahead to their second album, he says the material will be a bit different.
"The next [album] is going to be a lot punchier, a lot more groove, a lot more hip-hop influence, and definitely more alternative-rock leading," he says.
The duo also have high hopes of collaborating with other artists.
"[We] would love for that to be a part of the next project," says Jafar.
The Blue Stones
7 pm, Tuesday, April 2
$15, Lucky Bar
luckybar.ca
Facebook comments; non-Facebook comments below