What's Going On: March 20 to April 2, 2019
March 20, 2019 by Kate Wood, staff writer
Until Saturday, May 25
Walk and talk
The Capital Regional District is hosting a series of guided walks and hikes in its regional parks. Register for a selection of guided walks, moderate and intermediate hikes, and accessible tours at crd.bc.ca.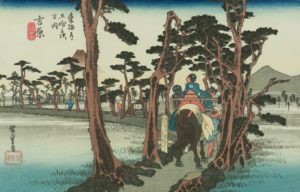 Until Monday, May 27
Pictures of the floating world
Prints by influential artists of the ukiyo-e tradition, Katsushika Hokusai (1760-1849) and Utagawa Ando Hiroshige (1797-1858), are on display in the Art Gallery of Greater Victoria's Centennial Gallery until May 27. The two artists innovated the art form of woodblock prints in the 19th century. The exhibition has many iconic prints highlighting the work of these Japanese artists as well as the work of their students. For more info, visit aggv.ca.
Wednesday, March 20 to Sunday, March 24
Old stock, new story
Old Stock: A Refugee Love Story is coming to the Belfry Theatre. Dark folk storytelling meets high-energy concert to form this music-theatre hybrid starring folk musician Ben Caplan (who will also perform his new album Old Stock, an adaptation of the play, on March 29 at Capital Ballroom). Inspired by the true story of writer Hannah Moscovitch's grandparents, who came to Canada in 1908, the story is about loving after experiencing the horrors of war. Tickets are $30 with discounts for students. For showtimes and more information visit belfry.bc.ca. 
Friday, March 22
It's not over 'til the DJ says
Vancouver-based DJ Ryan Wells is at Copper Owl with opening act David Pelvis on March 22. Wells has performed at major Canadian music festivals Bass Coast and Shambhala; his latest track, "It's Over," was recently released as part of Bass Coast's #12daysofbasscoast fundraiser compilation. Tickets are $15 in advance and $18 at the door. Music starts at 10 pm. For more information visit copperowl.ca.
Friday, March 22
Concert envy
Vinyl Envy is celebrating its 250th live in-store show with the musical stylings of Victoria singer-songwriter and multi-instrumentalist Sam Weber. Doors are at 7, with opening act Sail Cassady getting things started. $12 advance tickets are available at Vinyl Envy; tickets are $15 at the door. All ages welcome. For more information visit vinylenvy.com. 
Tuesday, March 26
A bright light in a dark room
The Bright Light Social Hour are at Upstairs Cabaret, with opening act Sea Moya, on March 26. The band's last two albums, Jude Vol. I and Jude Vol. II,are a product of the band's cathartic process of healing after a tragedy. The band hopes to help audiences untangle their own complicated feelings and find optimism. Doors are at 7 pm and tickets are $20. For more information visit upstairscabaret.ca.
Wednesday, March 27 to Saturday, March 30
From the sidewalk to the stage
I Walked the Line, an Other Guys Theatre Company production, is at Intrepid Theatre from March 27 to 30. The play tells the story of actor Allan Morgan's experience trying to maintain a positive spirit while working in a mailroom during a lockout. Tickets are $15 for students. For showtimes and ticket information visit otherguystheatre.ca.
Thursday, March 28
Northern Coast meet west coast
Calgary-based indie rock group The Northern Coast are bringing their new album The Great Divide to Logan's Pub on March 28. The Great Divide is a break-up album about love and reflection with themes of apathy, shortcomings of love, and the great divide that exists in society. The show starts at 9 pm; for more information on this and other events, visit loganspub.com.
Friday, March 29
Caplan merges media
Ben Caplan brings a melodic twist on folk-rock to Capital Ballroom on March 29. His latest album, Old Stock, is an adaptation of music-theatre piece Old Stock: A Refugee Love Story.The album speaks to issues like immigration, religion, and sexuality through the true story of two Jewish Romanian refugees who came to Canada in 1908. The show is at 8 pm. Tickets are $20 and are available at Lyle's Place or online at thecapitalballroom.com.
Saturday, March 30
Inclusion initiatives
Royal Roads University is hosting The Inclusion Project, a strategic dialogue on diversity, equity, and inclusiveness, on March 30. The event will highlight challenges faced by immigrants, refugees, and international students, as well as develop initiatives to support equity in policy development in areas such as gender equity, racial inclusion, and youth engagement. It takes place from 8 am to 6 pm and costs $75 for students. For more information and to register visit theinclusionproject.com.
Sunday, March 31
Fifty years of "don't take the brown acid" jokes
The Victoria Composers Collective and Trio Taco are celebrating the 50th anniversary of Woodstock with this night of experimental psychedelic music at the Copper Owl. Tickets are $15 at the door or $10 in advance at brownpaperbag.com; see copperowl.ca for more information on this and other upcoming events at the Copper Owl.
Coming Soon:
April 12, Jim Gaffigan, Save-on-Foods Memorial Centre
April 17, Metric with July Talk, Save-on-Foods Memorial Centre
May 19, Chris D'Elia, Royal Theatre
June 24, Corey Hart, Save-on-Foods Memorial Centre
August 21, "Weird Al" Yankovic, Save-on-Foods Memorial Centre
Facebook comments; non-Facebook comments below