Students prepare for 2019 Camosun Comic Arts Festival
April 3, 2019 by Doug McLean, contributing writer
The students of the Camosun Comics and Graphic Novels program are ramping up for this year's Camosun Comic Arts Festival. Students Claire McDonald and Shaye Nielsen are excited to display their work to the public.
"I think it's a really big part of comics, not only just selling your comics, but selling yourself, and that's a skill that we need to know as entrepreneurs," says McDonald. "How to sell yourself, what kind of merch people like, how to go to a con and be prepared for that."
Putting themselves out there can be a very difficult challenge to overcome for some artists, something that the festival may help them overcome.
"It's a pretty small convention, but I think it's great because you really get to know the artists," says McDonald, "and it gives the opportunity for some really grassroot artists to try out the con experience."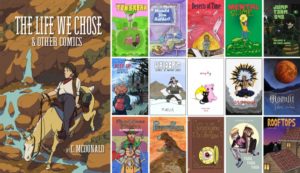 Despite any lingering nervousness, the students are looking forward to finally displaying their work.
"I think that all of us students who are taking the Comics and Graphic Novels program now are looking forward to having an opportunity to spread our name around," says Nielsen, "kind of gain an in to the [comic scene] in Victoria. I am definitely looking forward to meeting the mentors that are going to be there. Getting personal time with someone like [Black Panther artist] Brian Stelfreeze is pretty unique."
There will be several guest speakers and mentors in attendance whom the students and attendees will get to interact with, along with several activities for attendees to participate in, such as the comics jam.
"A comics jam is essentially when one person starts a comic with a single panel and then hands the piece of paper around, and other artists get a chance to fill in the story word for word or panel for panel," says Nielsen. "It's really fun because every person brings their own creative element or character to the story and it quickly grows in hilarity."
The festival encourages cosplay and has a dedicated room for attendees to sketch cosplayers and stretch their own creativity.
"There's also a room full of tables for additional artists and young artists who have taken the program in the past or would like to get some publicity," says Nielsen.
In addition to the panels and activities, the Artist's Alley will have merch for sale.
"We are taking three of the eight-page comics that we've done this year and we're putting them together into an anthology that each of us will be selling, so it will all be original work. It will all be inspired by different prompts by the prof, but it will all be very unique," says McDonald.
The students in the program have learned that the medium of comics is full of compromises and inherent limitations, but these aren't necessarily bad things.
"Our prof has a good saying: 'The absence of limitation is the enemy of art.' It just talks about the fact that the more limitations you have, the more you have to problem-solve, the more you have to come up with clever solutions, which makes the art more powerful and more unique," says McDonald.
While the students are excited to show off their work, their enthusiasm doesn't end there.
"Even though comics have been around since the golden age in the 1950s, people are still coming up with new tropes and ways to tell the story, which really enrich the medium," says Nielsen. "I think we're at the forefront of a new age of comics."
Camosun Comic Arts Festival
12 pm to 5 pm Saturday, April 13
Free, Young Building, Lansdowne campus
camosun.ca
Facebook comments; non-Facebook comments below