First Things First: Picture-perfect notes
May 15, 2019 by Tiegan Suddaby, contributing writer
Have you ever heard of the studyblr or studygram community? It's a wretched, cursed place that I willingly visit, and you might too. There's something so clean and perfect about it that makes me so conflicted I decided to write a column—no, a warning—on what it is and why I love it.
Simply, it is sharing your notes on a social media platform of your choice (hence the portmanteau of "study" and "Tumblr" or "Instagram") in a manner that is pleasing to the eye.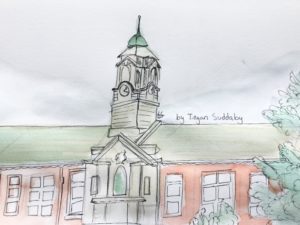 But here's what people are getting wrong about studying and giving advice: it shouldn't be superficial and perfect like every other thing on this planet of publicity.
I've shared my thoughts on seeing everyone living perfect lives before, but how depressing is seeing that even in their notes? How often have I seen some stranger's little account bio that says things like "I give advice on how to survive the school semester," only for their feed to say things like "Drink water and have a snack" under a picture of perfect calligraphy?
So why am I so in love with it? Because it celebrates studying! The community honours the quietness of work.
The problem is the generic nothings that go with it, and how it seems like some high-school kid showing off how they're better at taking notes than you are.
The point is this: a community dedicated to studying has aesthetic value to it, but helpful information in the community is too hard to come by. Without those pretty pictures, I might not have the same motivation I do now, but photos are just photos. Just ignore the people trying to fill you with useless platitudes and focus on what matters: minimizing the stress of a workload to the point where you find enjoyment in it.
Facebook comments; non-Facebook comments below