New Music Revue: Joey Landreth comes up short on Hindsight
May 15, 2019 by Fred Cameron, contributing writer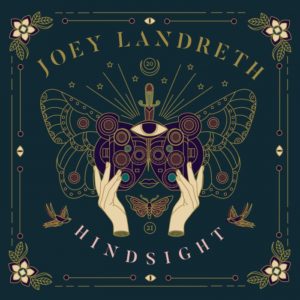 Joey Landreth
Hindsight
(Cadence Recordings)
2.5/5
Winnipeg blues rock guitarist Joey Landreth has returned with his second solo album, Hindsight, and he's definitely taking a change of direction from his Juno-winning work with The Bros. Landreth.
The album features guitar-driven power-trio sounds that blur the lines between modern blues rock and Landreth's folk/blues roots. Hindsight is strong through the opening tracks: "Forgiveness" and "Cryin'," with their grimy distorted guitars and soulful melodies, are reminiscent of Bahamas' early albums. The songs set the mood for the lead single, "Where Did I Go Wrong." Some of the acoustic tracks, like 'Dangerous Heart" and "Hindsight," showcase Landreth's versatility.
Hindsight has everything—great guitar work, soulful vocals, and great songwriting—yet somehow it doesn't work. The album starts out well, building momentum as a blues-rock record, but the band may be better suited to a country audience. Simply put, Hindsight isn't at the same level as Landreth's previous work, and while it contains some decent tracks, it, unfortunately, may just be the forgettable cuts that you'll remember.
Facebook comments; non-Facebook comments below