Camosun College involved in microhousing project
June 12, 2019 by Kate Wood, staff writer
Camosun College—through its Camosun Innovates department—is teaming up with Clemson University in South Carolina and Anomura Housing Society in Victoria on a design for tiny homes that can be assembled with just a rubber mallet, a screwdriver, and steel twist ties. The design, called sim[PLY], was developed at Clemson University in the interest of synthesizing do-it-yourself construction with affordability and sustainability. A demonstration model is now set up in the bay of Camosun's Innovation Centre, located in the Jack White Building at Interurban.
Camosun Innovates associate director Jamie VanDenbossche says that the Camosun Innovates team is unique in its technology and expertise because the work it does focuses on solving problems for small companies and social agencies.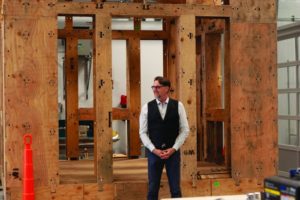 "Unlike a university that would have to maybe put [sim[PLY]] as part of the master's students' project, or something on the side, our research is community driven," says VanDenbossche. "So we're not doing specific research because it's something that a professor is interested in—we're doing it because companies are coming in with a problem and we're trying to solve them. So it's a whole different model of the way we traditionally would see research done. So when Anomura called us, they were surprised by that model and excited because it meant that we could act really quickly to get this first prototype done."
Anomura Housing Society president Susan Abells says that one of the big ideas behind the sim[PLY] design is to minimize the number of tools needed in order to make the construction process more accessible and flexible.
"It's all been predesigned so that anybody like myself, yourself, or others can all be involved in the construction of the home," says Abells. "The prefabrication happens in advance, and that carpentry is built into the pieces. Like in an IKEA kitchen—there's a lot of work in the front end, but then for the builder at the back end you don't need a lot of skills. In IKEA you need an Allen key and for Anomura you need a rubber mallet, a screwdriver, and zip ties instead of nails."
VanDenbossche says that one of the exciting innovations that Camosun has brought to the sim[PLY] technology is the idea to use waterjet cutting technology instead of computer numerical control (CNC) drilling machines in order to extract the puzzle-piece designs from the plywood sheets.
"The CNC will produce a lot of dust, because a lot of that basically is cutting at wood, and when you cut wood there's a lot of wood pilings," says VanDenbossche. "So the difference with the waterjet is that debris is minimized because it's a jet of water versus an actual tool. They're both computer controlled, but with the waterjet it's a finer cut, so we can actually get more pieces out of a sheet of plywood than we can with the router machine. So we actually figure we could probably save 30 percent of the material costs right there alone. Also, it means there would be less wood waste and decrease the cost of production."
Camosun Innovates applied research technologist Sergio Asebey Solares is the lead engineer on this project; he contributed the cutting-edge idea of waterjet technology to the sim[PLY] design.
"We had experience with waterjet cutting here," says Solares. "The idea was to find ways to make it more efficient, so we can produce it faster, and produce waste that comes out of manufacturing that can be recycled and not just thrown [away]. So by jumping into the waterjet you can gain all those characteristics of manufacturing. [With] the waterjet, the parts inside of the stock sheet could be nested closer to each other, so we can lower the waste, and all the pieces that come out of the waterjet can be easily recycled. So that was one of the reasons—just finding better ways to manufacture."
Abells says that the sim[PLY] design is an exciting opportunity to create densification in urban areas with an environmental perspective.
"We're all pretty excited about it as architects, and engineers, and other people," says Abells, "knowing that whether it's a tiny home in a backyard suite or on one of the islands, this is a very flexible form of architecture that can appear and be moved. Another great thing about this architecture is that when you disassemble it, you can reassemble it using the same materials and nothing goes to landfill. So from an environmental point of view, being able to create density by accessing true densification, but small and distributed rather than every development having 150 units in it, which is getting harder and harder to do in the urban environment."
Abells says that the team is now working on the process of coming to code in Canada and estimates that in about one year it will be ready to introduce the materials to the public.
"We figure that within about a year our process will be complete," says Abells, "and we'll be able to offer this product in Canada and then use the proceeds as a social enterprise to support social housing and other forms of affordable housing for low-income people."
Facebook comments; non-Facebook comments below