Camosun Video Games Club provides universal language for students
June 12, 2019 by Katy Weicker, staff writer
To students looking to escape the chaos of classes and exams, fourth-year Anthropology student Amy Lee-Radigan says to look no further than the Camosun Video Games Club as a way to de-stress and bond over a mutually loved activity.
"I think college is an amazing time to get out of your shell a little bit," says Lee-Radigan, who is the club organizer, "and having some kind of activity that you feel maybe a little bit comfortable doing, I think, can really help break down those barriers."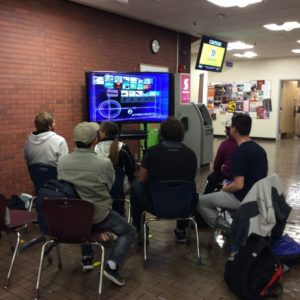 For international students, one of those barriers can be language. Lee-Radigan points out that most students have played games at some point in their lives, allowing video games to serve as a bonding experience for students from all over the world.
"It's kind of a nice touchstone because usually everyone has some kind of connection with it," says Lee-Radigan. "There was one year where there was, I don't know which, but there was a big football tournament going on, so everyone was playing the FIFA game at the club, and it was great… it just seems to be something everyone can kind of enjoy together. Everyone has some connection with some game."
During her two years as club organizer, Lee-Radigan has seen the club evolve from having get-togethers tucked away in classrooms to having them loud and clear in the centre of the Fisher Building foyer, making the club more visible and accessible to students. Another change she's seen is the focus of the club: the Video Game Club was born from the Classic and Party Gaming Club, and there used to be a full-fledged Board Games Club, which still exists as a side table during the Activity Club gatherings.
"We did have a board games club, but one of the issues that we found was because students only have a limited amount of time between classes it was really difficult to get board games up and started," says Lee-Radigan. "You'd start with some people, someone would have to leave, and you don't have enough people to swap in. Our hope is to get the board games up and running again as more of an evening event."
The Video Games Club runs from September to April; Lee-Radigan stresses students don't have to sign up as members to participate.
"I think if it's more of a drop-in students feel a little bit freer to join without necessarily the commitment of, 'Oh, I have to join this club, and sign up, and give my email…'" she says. "It's like, 'Nope, if you're in the area, play some video games, hang out with us.' No pressure."
Lee-Radigan says that the inclusive, relaxed atmosphere is one of her favourite things about running the club.
"I love it when all of the students who come to the club will go off and be like, 'Okay, let's go down to EB Games, or let's go hang out or something,' and it's nice that it seems to actually be creating a space where friendships can develop over a mutually loved activity," she says.
While it's true that some people take their video games very seriously, Lee-Radigan stresses that newcomers are always welcome in the club.
"There's some players that have, you know, clearly been playing all their lives and are amazing, but I also find that those players are really jazzed about the game, and so they're really helpful to any players that might be new because everyone is just so immediately friendly," she says. "So, if somebody doesn't necessarily know how to play the game, instantly everyone's like, 'Oh, yeah—so, that controller does that, this controller does that; do you have any other questions? Just ask us.' I find it's just a really welcoming environment."
For more information on the club, look for Camosun Video Games Club on Facebook.
Facebook comments; non-Facebook comments below