News Briefs: June 12, 2019 issue
Agreement calls for more student support at college
Camosun College and BCGEU Local 701 recently ratified an agreement that includes a fund to support the development of online, blended, and distributed courses, along with student and instructor support initiatives that aim to improve learning outcomes. BCGEU Local 701 represents 164 vocational faculty members at Camosun.
College moving ahead with Indigenous-transit proposal
While The South Island Prosperity Partnership's entry into the Smart Cities Challenge—part of which included a proposal that Camosun was involved with to enhance transportation to rural Indigenous areas—failed to get the $10-million prize in that competition, a memorandum of understanding has been signed between the Songhees Nation and Camosun to develop and test an Indigenous-focused solution to transit issues, according to a May 14 story in the Times Colonist.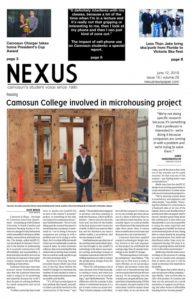 Centre for Accessible Learning gets new manager
Darryl Gorrie is the new manager, accessible learning at Camosun's Centre for Accessible Learning (CAL). This is a new position for the CAL. Gorrie was previously at the University of Victoria's Centre for Accessible Learning.
Camosun president gets Twitter fake
If you noticed that Camosun College president Sherri Bell's Twitter handle is a bit amateur, that's because @SherriB17745763 was a fake account that popped up recently. Bell—whose real account is @SDBellCamosun—took to Twitter last month to let people know about the impersonator account.
Government invests in campus-sexual-violence prevention
The provincial government recently announced that it is investing $760,000 in initiatives to prevent and respond to sexual violence on campuses across BC. The money will go toward, among other things, the coordination of resources and training between post-secondary institutions; plain language supports to ensure policies around sexual misconduct and violence are clear; and outreach to students to better understand student experiences. The money also went toward the sector-wide Moving Forward Together: Building Capacity to Prevent and Respond to Sexual Violence on Campus forum on June 4 and 5.
Province looks at post-secondary money laundering
First it was casinos and real estate, and now the province of British Columbia has its eyes on post-secondary institutions as a potential hot spot for money laundering. According to a recent press release from the government, the post-secondary sector has been identified as vulnerable to money laundering. The province is now working with public and private post-secondary institutions to make sure they're not being targeted for money laundering. Post-secondary institutions, including Camosun, are being advised to review their financial policies to make sure that large cash payments from a single student are not accepted; institutions without a policy about accepting cash are being asked to develop one.
Newspaper offers free content for students
The Toronto Star wants to give post-secondary students across Canada a chance to get their news for free for a while. The paper is offering free digital access for students in the months leading up to the federal election in October. To sign up for the content, go to thestar.com/vote2019offer.
University of Regina keeping tight-lipped about oil and gas research
A professor at the University of Regina (UoR) is fighting the school to find out who is funding oil and gas research at the university. Emily Eaton teaches Geography and Environmental Studies at UoR; she recently told CBC that she wasn't expecting to find anything "particularly surprising or malicious" when she started looking into this, but is now curious as to why the university is going to "such great lengths to keep it from the public." Eaton has tried to get the information using a Freedom of Information and Privacy request, but the university provided her with redacted information that didn't answer her questions. A date is being scheduled for open court; Eaton has launched a GoFundMe to cover her legal costs.

Facebook comments; non-Facebook comments below