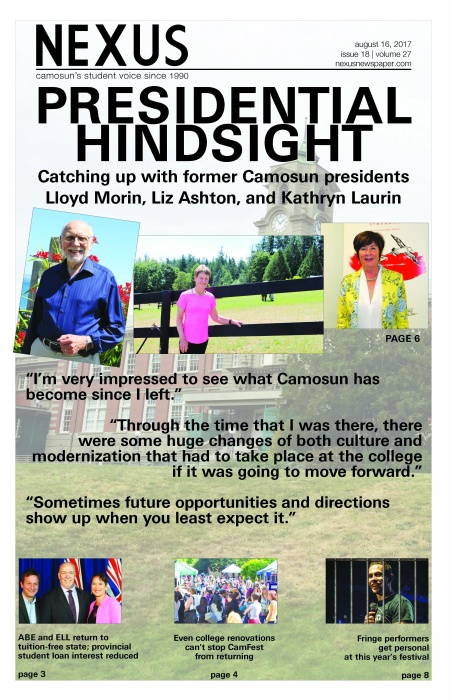 August 16, 2017
Print Version:
PDF
Have you ever wondered about the Camosun students writing the articles you read in Nexus? Know Your Writers will help you dive into the minds of the writers behind the stories.This issue, we talked to columnist Sean Annable about what the public expects of journalists, how his column makes him push himself, and why he […]
If you've spent any time at all in the Capital Regional District, you are quite familiar with just how bad the southern island's traffic congestion issues really are. The region's population is rapidly growing, and, according to census data, the population of metro Victoria exceeded the national growth rate over the last five years. So […]
As I write this, it's hot out, and I need something cool to slake my thirst while I do yard work, barbecue, or just hang inside, enjoying the AC. I want a beer with flavour, but I want to be able to have a couple and not feel too dizzy to cook. I need a […]
See more at smithvssmith.com.
The two members of New Brunswick doom metal duo Zaum—vocalist/bassist Kyle Alexander McDonald and drummer Christopher Lewis—got the self-described "mantra doom" band together in 2013 and released their first record, Oracles, shortly after, in 2014. "We just hit a point where we both weren't busy musically, and I kind of realized that I wanted to […]
Know Your Profs is an ongoing series of profiles on the instructors at Camosun College. Every issue we ask a different instructor at Camosun the same 10 questions. If you have an instructor you'd like to see interviewed in the paper, email editor@nexusnewspaper.com and we'll add them to our list of teachers to talk to. This issue, we […]
Spindrift: A Canadian Book of the Sea, edited by Michael and Anita Hadley, is an anthology about the Canadian seas. The stories and poems highlight, through the different authors' personal experiences, the history of the Canadian seas and their effects on people's lives. Both the stories and poetry are very descriptive and evocative; they create […]
The federal government recently released Tax Planning Using Corporations, a paper that proposes changes to the taxing of private corporations. The laws that govern our tax system are convoluted. The Income War Tax Act was a 10-page document in 1917; it's now a bloated 3,000 pages. Governments amend, repeal, and introduce new provisions to support […]
Whether it's coping with financial struggles, dealing with the aftermath of an impromptu speech that left some people offended, or facing an unexplained contract termination, serving as president of Camosun College is not without some havoc. Perhaps that's why the stories behind three of Camosun's former presidents—Lloyd Morin, Liz Ashton, and Kathryn Laurin—are so compelling. […]