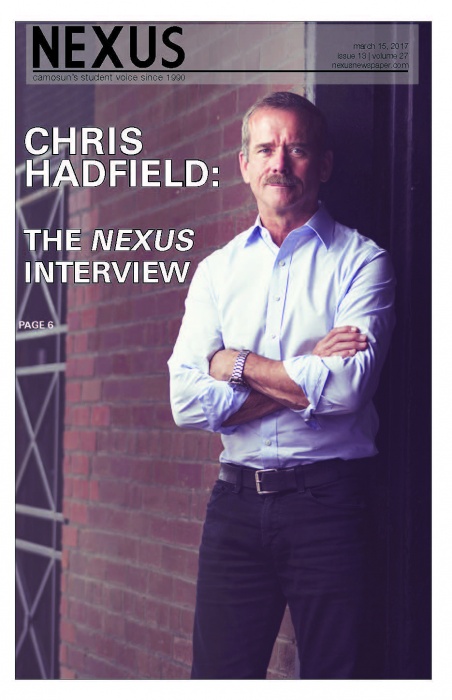 March 15, 2017
Print Version:
PDF
Camosun instructor passes away  Laurie O'Dowd, who taught in Camosun's English Language Development department for 22 years, has passed away. O'Dowd retired from Camosun in 2012; during her time at the college, she interviewed, assessed, and placed hundreds of students in the program. Camosun students feed those in need  Students in Camosun's Hospitality Management training […]
A conspiracy theory worth considering: We asked students what they thought about student loans in Speak Up in our March 16, 1992 issue. Responses were as you may expect, although one stands out: Camosun student Jason Crockett told us, "I think it is an evil plot by the government to reduce the population of the […]
Know Your Profs is an ongoing series of profiles on the instructors at Camosun College. Every issue we ask a different instructor at Camosun the same 10 questions in an attempt to get to know them a little better. If you have an instructor you'd like to see interviewed in the paper, but perhaps you're […]
Have you ever wondered about the Camosun students writing the articles you read in Nexus? Know Your Writers will help you dive into the minds of the writers behind the stories. This issue, we talked to contributing writer Aaron Stefik about staying in Victoria, fighting biases, and how satire can be misunderstood. What drew you […]
To pursue a career in music without the support of family would be a very unfortunate experience indeed. Joel Plaskett has been a consistent voice in the Canadian music scene since the mid '90s; he's played with a number of great musicians, but his most recent collaboration is with a particularly special one: his father, […]
Thursday, March 16 Sellars speaks Camosun College's Human Rights Committee is hosting "A Call to Action: Indigenous Economies and Reconciliation," a talk by Xat'sull First Nation chief Bev Sellars, from 7 to 9 pm on March 16 at Wilna Thomas 234; everyone is welcome. Sellars will also be speaking to Camosun staff and students about […]
See more at smithvssmith.com.
In case you read some of my info in past columns on how to get started in investing and want an even simpler approach, you may be happy to know that technology has come to the rescue with robo-advisors. First off, you're not alone if you cringe when you think of banks. The Millennial Disruption […]
Broken Rhythms Dance Company's upcoming dance performance Universal Horrors takes influence from horror movies, incorporating elements from old-school classics like Dracula, Wolfman, and Creature from the Black Lagoon. Executive/artistic director Dyana Sonik-Henderson explains that the performance is inspired by old horror films; most of them focused on the music, and what few sounds were used […]