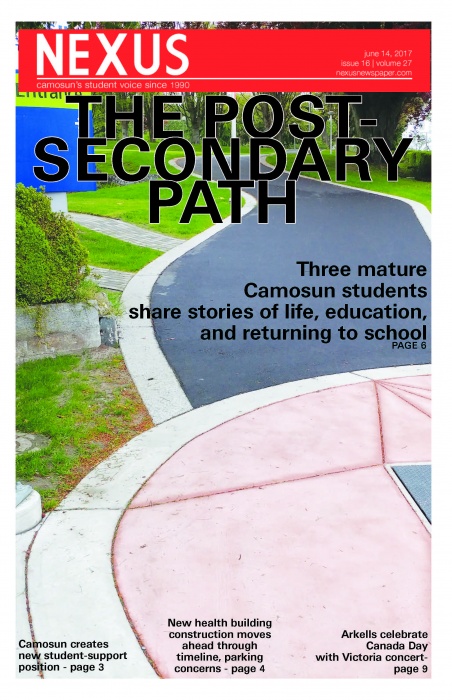 June 14, 2017
Print Version:
PDF
Feel like taking a road trip this summer? Beyond Mile Zero by writer Lily Gontard and photographer Mark Kelly is the book to inspire you. Gontard teamed up with Kelly to capture the lodge community along the Alaska Highway and share the stories of the people who have a history within the community. Before each […]
Have you ever wondered about the Camosun students writing the articles you read in Nexus? Know Your Writers will help you dive into the minds of the writers behind the stories. This issue, we caught up with columnist and contributing writer Patrick Newman to talk about his grandfather's influence on his career choice, his return […]
Camosun College has begun construction on its new health and sciences building, tentatively named the Centre for Health and Wellness, located at the Interurban campus. Construction of the building is being funded by the federal government, the provincial government, and Camosun. The provincial government is paying $31 million, the college is paying $5 million, and […]
See more at smithvssmith.com.
Blockchain technology is becoming more than a system that powers cryptocurrencies such as Bitcoin and ether, created by Ethereum; it's part of a sociocultural movement that is disrupting the finance industry, among many others, and it could change the internet as we know it. Joseph Lubin, founder of the Brooklyn tech company Consensys, is enthusiastic […]
Dearest reader, As we glide upon the wake of our fair province's most recent exercise in democracy, one finds it prudent to look briskly ahead to preparation for the next election, lest we descend into complacency upon a favourable result or else fall to disquieted acceptance upon an unfavourable one. Your own reaction will vary, […]
The British Columbia Federation of Students (BCFS) is totally justified in withholding $200,000 of Camosun College students' Canadian Federation of Students (CFS) fees. Our cover story in our last issue made public the fact that your CFS fees, collected by the Camosun College Student Society (CCSS), aren't going to the CFS, as the CCSS claims […]
Know Your Profs is an ongoing series of profiles on the instructors at Camosun College. Every issue we ask a different instructor at Camosun the same 10 questions in an attempt to get to know them a little better. If you have an instructor you'd like to see interviewed in the paper, but perhaps you're too […]
Hamilton alt-rockers Arkells have been busy as of late, releasing a surprise single and making their way back to Victoria to headline Spirit of 150, an 11-day harbourside Canada Day celebration that will culminate with a massive show on July 1. "We assumed we could do something on Canada Day," says vocalist/guitarist Max Kerman. "Since […]