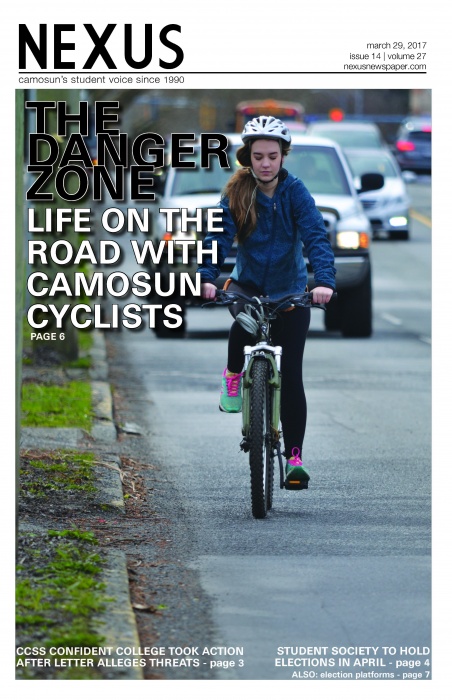 March 29, 2017
Print Version:
PDF
CFS controversy begins: Back in 1992, the Camosun College Student Society was talking about joining the Canadian Federation of Students; Camosun students did end up voting to join the national student organization. Letter-writer Chris Conway wrote in our March 30, 1992 issue, "What benefit is membership in the Canadian Federation of Students?" Interestingly, we ran […]
Birds of Paradise is a new art installation that seeks to use pole dancing as a vehicle to tell the story of a post-energy-crisis world. Lauren Mardsen—who came up with the idea and directed, filmed, and edited the video installation—says that she was inspired by a friend displaying her pole-dancing skills. "I really got inspired […]
University of Victoria professor Jennifer Wise has long held a passion for site-specific dramatic performances based on little-known histories of Victoria. Having cut her teeth on her original production, The Girl Rabbi of the Golden West, Wise is now working with director Matthew Payne and students of the UVic theatre program on A Queer Trial, […]
One can surely envisage few ideals yet dearer to the heart of the Canadian than this grand nation's consummate manner of societal inclusion for all amongst its population in each and every forum of economic and social opportunity, and in every facet of public life. With like admiration, we may gaze back in pride on […]
Student society raising student voting awareness BC students have launched the Students Are Voting campaign in an attempt to get more students to commit to voting in the May provincial elections. The Camosun College Student Society (CCSS) was campaigning to get signatures at the Lansdowne campus on March 15 and will continue gathering signatures until […]
See more at smithvssmith.com.
Bitters are traditional English-style pale ales that use English malts; they're slightly hoppier than a regular ale but tend to make for a fairly balanced pint. I first had bitters when I travelled to the UK many moons ago; I'll always have a soft spot in my heart for a good one. I recently had […]
Art and storytelling play a big role in indigenous communities. Many art pieces tell stories; those that don't tend to radiate an imaginative aura that makes the viewer think and wonder about the piece and what it could be representing. Here in town, Open Space is currently hosting Awakening Memory, a new art exhibit that […]