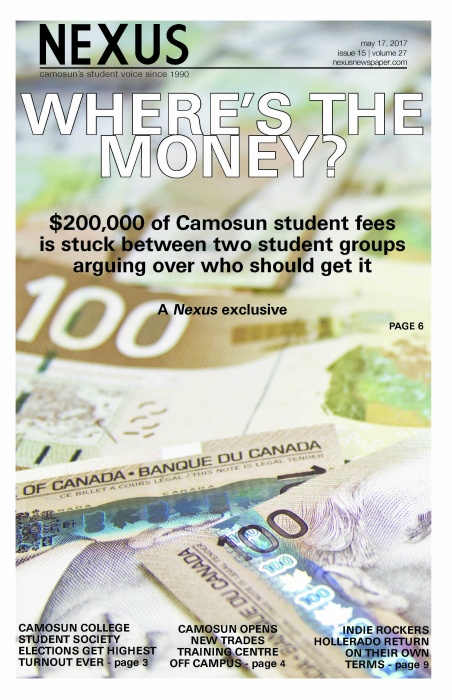 May 17, 2017
Print Version:
PDF
Have you ever wondered about the Camosun students writing the articles you read in Nexus? Know Your Writers will help you dive into the minds of the writers behind the stories. This issue, we caught up with Smith vs. Smith artist Matt Smith to talk about versatility in comics, creative writing at Camosun, and living […]
May 17, 2017 by Patrick Newman, contributing writer 
Filed under May 17, 2017, Arts
Looking for something to do now that spring is here? Thrifty and adventurous students may want to pick up Rick M. Harbo's nifty little photo guide Pacific Reef and Shore: A Photo Guide to Northwest Marine Life and hit the beaches and tidal areas surrounding our island. This is a wonderfully easy-to-use guide to marine […]
Curiosity led second-year Camosun Computer Science student Hebron Watson down an unexpected path in life. It opened up doors for Watson, leading him to a job where he can be challenged and help produce some innovative study tools for students. Watson says that it was through some incredible luck—and curiosity—that he was able to land […]
Know Your Profs is an ongoing series of profiles on the instructors at Camosun College. Every issue we ask a different instructor at Camosun the same 10 questions in an attempt to get to know them a little better. If you have an instructor you'd like to see interviewed in the paper, but perhaps you're […]
The recent Camosun College Student Society (CCSS) election, which took place from April 3 to 5, had three times the number of student votes cast compared with previous years' average turnouts. Out of 9,369 students currently registered at Camosun, 1,223 voted—a voter turnout much larger than the CCSS average of approximately 400. Rachael Grant has […]
I've been writing a lot about live game tournament events, viewer numbers, and the passion of fans supporting their favourite teams. But to actually be one of those viewers—one of those shouting, rabid fans at a live event—was something I've never had the pleasure of experiencing until recently. Enter League of Legends and the NA […]
Jeff Waters founded Annihilator in 1984 in Vancouver and went on to become a heavy hitter in the international thrash metal scene, but it's been 24 years since the band did a full Canadian tour. Waters is changing that now, though, bringing Annihilator through Canada, including a stop in Victoria. Waters is proud to have […]
See more at smithvssmith.com.
The Canadian federal government announced earlier this year that they would pass new legislation by June 2018 that will regulate, control, and tax the sale of cannabis from authorized distributors. Decriminalization laws allowing for the personal recreational use of cannabis will also be put into effect, allowing a person to carry no more than 30 […]